Merak Sakten Trek - 18 Days | 17 Nights
From
US$

7140 / Per Person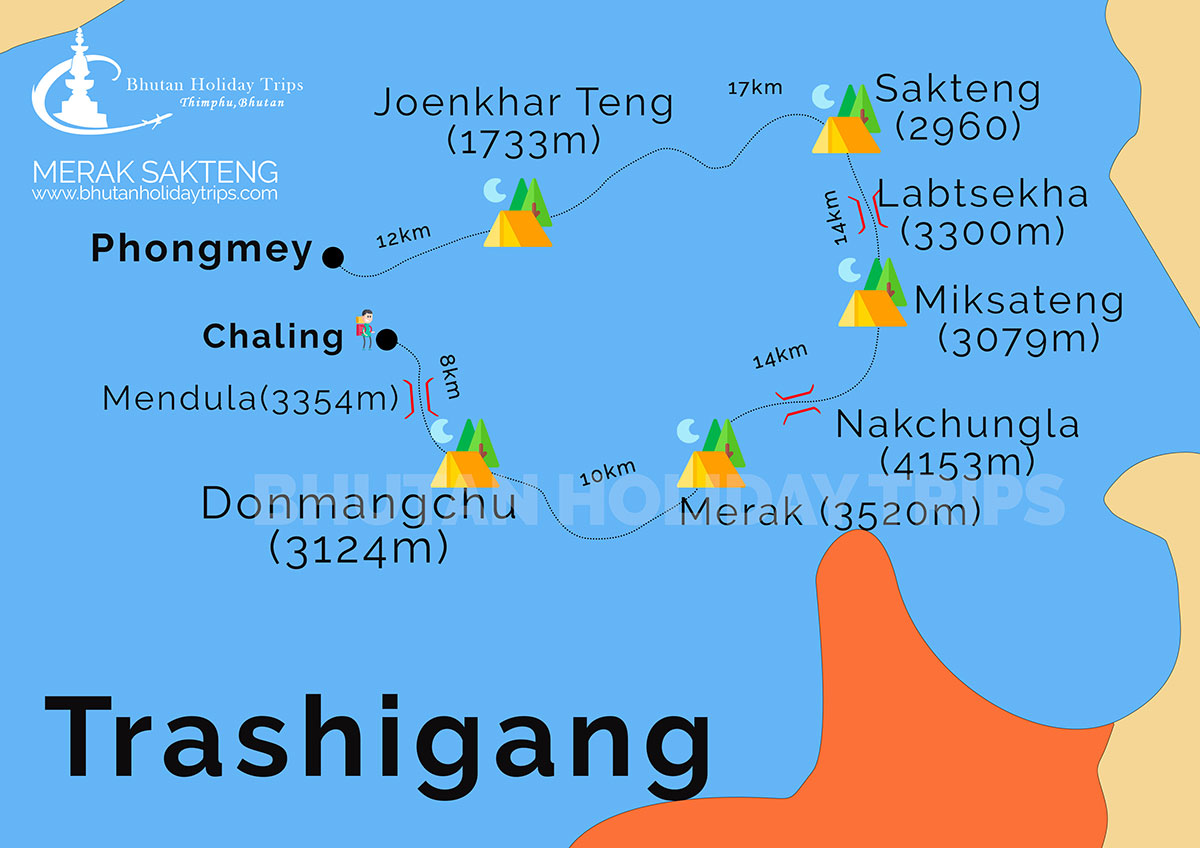 Highlights
The trek starts from Trashigang and ends at Phongmey, Trashigang.
Experience unique cultures of nomad yak herders of Merak and Sakteng.
Cross two high mountain passes: Nakchungla pass at 4153m and Labtsekha at 3300m.
 Witness people wear headgear made of yak's wool with tentacles to drain away rains.
Trek through Rhododendron forests and Yak pastures.
The people living in Merak Sakten area are semi nomadic yak herders with a unique and fascinating culture in the world. They speak a different dialect, have their own deities and wear a unique style of dress. They wear headgear made out of yak hair with five tentacles designed to draw away the rain.
Detailed Itinerary
Day 1:Arrive Paro international airport.
During the journey, one will experience breath-taking view of Mount Everest, Kanchenjunga and other famous Himalayan peaks including the sacred Jumolhari and Mount Jichu Drake in Bhutan. On arrival at Paro International Airport, you will be received by your guide and transfer to the hotel.  Later in the afternoon visit National Museum,  visit Paro Dzong. It was built in 17th century and now houses government offices and religious institutions. Then you will visit Kichu Lhakhang, the oldest temple in the country built by the Tibetan King Songtsen Gampo in 8th century. Overnight hotel in Paro.
Day 2: Paro-Thimphu

In the morning you will hike to Taktsang (Tiger's Nest) Monastery, which is Bhutan's most famous monastery situated at 3180 meters. Guru Rinpoche (spiritual master) is said to have flown on the back of a tigress from Singye Dzong in Lhuntse to meditate in a cave where Taktsang Monastery now stands. The Moanstery is perched on the edge of a steep cliff, about 900 meters above Paro Valley. Lunch will be served at the Cafeteria. Explore the monastery and hike back to the valley in the afternoon and take you to Thimphu, the capital city of Bhutan which is 54 km from Paro  and about 45 minutes drive. Overnight hotel in Thimphu.
Day 3: Thimphu
After breakfast, visit Buddha statue,) and is presumed to be the largest Bronze statue in the world. The three storied high throne of the statue will consists of temples on each floor. visit the King's Memorial Chorten (built in memory of the third King of Bhutan); School of Arts and Crafts (also known as the painting school); Traditional paper factory, visit Post office were you can personalize your stamp, visit Changgangkha Monastery; visit the mini zoo where you will see national animal of Bhutan Takin, and the majestic Tashichhodzong. Evening: Stroll through the town. Overnight hotel in Thimphu.
Day 4: Thimphu – Punakha
After breakfast this morning, enjoy the scenic drive to Punakha with a stop for tea at Dochu La (3,100 meters), where on a clear day you can get spectacular views of the Eastern Himalayas. From the pass, drive downhill through the forests of rhododendron, fir and hemlock. You will arrive Punakha  after traversing through rice field and along the bank of Punakha River. On the way to Punakha, you will stop at Metsina village and take a 20 minute walk through the rice fields to Chimi Lhakhang, which is a fertility temple. After Lunch you will visit the Punakha Dzong, which is stunningly situated inbetween the male and female rivers like an anchored ship. Overnight hotel in Punakha.
Day 5: Punakha – Phobjikha
After breakfast you will be driving to Khamsum Yuelley Namgayl chorten. Khamsum Yulley Namgyal Chorten stands out on a beautiful ridge above the Punakha valley. It was built by Her Majesty the Queen Mother, Ashi Tshering Yangdon Wangchuck. It took 9 years to build and Holy Scriptures rather than engineering manuals were consulted to construct this 4-storey temple. It is a fine example of Bhutanese architecture and artistic traditions. This temple has been dedicated for the well being of the kingdom, its people and all sentient beings. From the parking it is another 45 minutes uphill walk through the rice fields and the return portion downhill takes around 30 minutes. Best view of the Punakha Valley is seen from the top of the temple.   After lunch you  will drive to  Phobjekha  which is a famous for winter roosting place for Black necked crane. Overnight hotel in Phobjikha.
Day 6: Phobjikha-Trongsa
Today you will drive to Trongsa. Before you drive to trongsa you will visit Black Neck Crane information center. After that you will visit  Gangtey Goenpa, the largest Nyingma monastery in Bhutan. Gyalse Pema Thinlay built a small temple in 1613, which was later built into larger Goenpa by the 2nd reincarnation Tenzin Legpai Dhendup.  Gangtey Natural Trail. The most beautiful and shortest of the existing nature trails in Bhutan. The trail hike starts from the mani (like Chhorten) stone wall to the north of the Ganagtey Gonpa and ends in Khewa Lhakhang. The hike takes about 1hr 30minutes through the pine forest and small bamboo plants. You can see the Phobjkha valley so beautifully from this hike. It is one of the best hike places for the Nature lovers. During the winter months, we can see the endangered species of birds Black Neck Cranes. Overnight hotel in Trongsa.
Day 7: Trongsa to Bumthang.
After early Breakfast you will start your drive to Bumthang. On the way you will cross Yontongla pass(3450m) and after pass you will enter in to Bumthang region. ). Along the way you will stop at the Yathra (textile weaving) factory, where the Yathras are designed with unique Patterns that have been conserved long way back in Bumthang, and you can even watch some of the weavers at their looms.  After lunch you will visit  Kurjey Lakhang, where Guru Rinpochee left his body imprints inside cave. You will also visit Jambay lakhang, Tamshing lakhang, . Evening you can stroll freely in the town.  Overnight hotel in Bumthang.
Day 8: Bumthang-Mongar
You will begin you journey to eastern Bhutan.  You will pass through Ura village which has a medevial look because of the cobbletone streets, and the typical clothingof the women. Eastern Bhutan  is different from western and central in terms of development and lifestyle.  The drive on this day is an exhilarating 6 hours, particularly the Thrumshing La(pass), which is 3750 meters. Stop for a while and stretch your legs and enjoy the great sceneries around.  After this pass you will enter in to eastern District. Overnight hotel in Mongar.
Day 9: Mongar-Trashigang
Today you will drive to Trashigang passing through several villages. When you reach Chazam Bridge, you will take a turn-off road, which goes to Gom Kora temple. You will visit this temple. It is said that Guru Rinpoche meditated here and you can see the impression of his thumb, his hat, and his body on the rock near the temple. You will then drive to Trashigang and visit the town area. Overnight hotel in Trashigang.
Day 10: Trashigang-Chaling-Donmang Chu(Trek Starts)
DISTANCE 8KMS | Time: 6hrs.| Ascent: 1554m | Decent: 230m| Altitude: 2148-3124m
The first day of the trek starts with a drive from Trashigang to Chaling through Rangjung and Radi villages. These villages are known for weaving (Raw silk). You can stop on the way back to see and learn the procedures of weaving. The trek ascends gradually through a pasture land for Yaks and Sheep with herders' huts secluded in the middle of the ground. Mendu La pass marks as final ascending and from here the trail descends through Rhododendron forest till the campsite in Donmang.
Day 11: Donmang Chu-Merak
DISTANCE 10KMS | Time: 4-5hrs.| Ascent: 36m | Decent: 0m| Altitude: 3124-3520m
Follow the trail along the river bank enjoying the views and nature. The trail leading to Gangu Village is the only parts with a gradual ascend and continuing the journey from Gangu will take about 45 minutes to reach Merak. The campsite is located near the village and it has good views of the local mountains and Merak village.
Merak is a small village where the community is predominated by unique race well known as Brokpas "Highlanders". The main activities of these Highlanders are rising of the domestic animals
Day 12: Merak-Miksateng
DISTANCE 14KMS | Time: 6hrs.| Ascent: 633m | Decent: 1074m| Altitude: 3517m-­3079m
Start early as it's going to be a harsh day of the trek. The trail ascends gradually from the campsite till the first pass where you can have the last glimpses of Merak valley. From the pass, the trail to the Nachung La pass is through Juniper forest decorated with Rhododendron trees. The trail descends till the campsite at Miksateng.
Day 13: Miksateng-Sakten
DISTANCE 14KMS | Time: 5-6hrs.| Ascent: 81m | Decent: 31 0m| Altitude: 30799m-2960m
The trails descends from the campsite leading to a river and after crossing it, follow the trail along the river bank till you ascend gradually to a small pass with a Chorten facing towards Sakten valley. Look out for Red Panda while descending from the ridge to Sakten valley; a big open space surrounded by heavily forested mountain. The campsite is near Sakten village.
Day 14: Explore Sakten( Rest Day)
DISTANCE 0KMS | Time: 0hrs.| Ascent: 0m | Decent:  0m| Altitude: 2960m
It's worth spending an extra day in Sakten to explore especially their lifestyle and unique culture.
Day 15: Sakten-Jonkher Teng
DISTANCE 17KMS | Time: 7-8hrs.| Ascent: 74m | Decent: 1291m| Altitude: 2950m-1733m
Start early from the camp as it's going to be a longest day of the trek. The trail passes through a small pass Munde La. There are couple of small ups and downs through broad leaf forest till Joenkhar Teng. The campsite of Joenkhar Teng is at the river side.
Day 16: Jonkher Teng-Phongmey-Trashigang(Trek Ends)
The last day of the trek crosses few suspension bridges including one stiff climb of one hour before reaching Phongmey village. Your transport will be waiting here to transfer you to your hotel in Trashigang. On the way visit Rangjung Monastery. Drive few miles further to explore Radhi and Phongmey villages, which are renowned for "Bura" gho and kira, a textle made from the raw silk. Overnight Hotel in Trashigang.
Day 17: Trashigang-Samdrupjongkhar
After breakfast, you will begin your drive to Samdrupjongkhar. This is going to be stunning journey passing through villages, , varied tropical broadleaved forest. Make a stop at Kanglung, Khaling and Narphung to interact with locals. Evening stroll around Samdrupjongkhar town. Overnight hotel in
Samdrupjongkhar.
Day 18: Depart for Guwahati, India
Our representative will bid you farewell
At a Glance
Tour duration: 18 Days | 17 Nights
Difficulty level:  Medium
Total distance: 63 km
Best season: March, April, May, September, October and November
Maximum elevation: 4235m
Minimum elevation: 1500m
Highest camp elevation: 4110m
Highest ascent of the trek: 1003m
Inclusions
All meals
Tea, coffee and snacks
Complementary bottled water in car
Hotels
Transport
Guide
Government levy
Visa fee
Entrance fees
Permits
Sightseeing
On trek includes:
Sleeping tents
Dining tents
Toilet and shower tents
Toilet seats
Mats
Duffle bags
Cooking utensils
All meals
Guide
Trek chef assistants
Horses
Exclusions
Flight tickets
Insurance
Tips
Beverages other than tea and coffee
Sleeping bag on trek
Laundry
Internet bill
Phone bill
Other bills of personal nature
Accommodation
Accommodation in 3 star hotels (upgrade with supplement) during city tour.
Tented campsite accommodation on trek.
Insurance
Package does not include insurance of any kinds, and that you are required to obtain separate coverage from your home country before your trip begins.