Hidden Kingdom of Bhutan - 8 Days | 7 Nights
From
US$

2560 / Per Person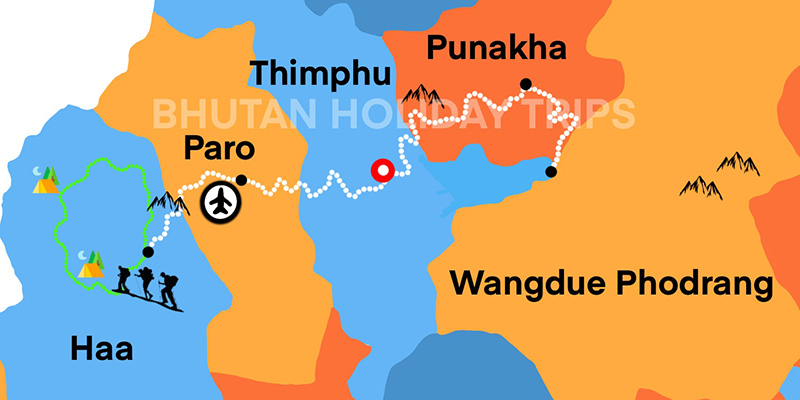 Highlights
Mix of cultural tour with Sagala trek.
Trek starts from Haa Valley and ends at Chele la pass in Paro.
Cross two high mountain passes: Ningula Pass 4435m and Kungkarpo at 4455m.
Explore the key cultural sites of Thimphu, Punakha, Haa and Paro.
Trek through rich forests, vegetation, meadows and grazing land.
Mountain views on trek: Mount Jumolhari at 7314m, Jichu Drake at 6989m and Tsherimgang at 6789m.
Explore the cultural highlight of Hidden Kingdom of Bhutan including iconic Tiger's Nest Monastery and Punakha Dzong. Your trek starts from north of Haa valley, trek along mountains and valley in between Haa and Paro, with enchanting view of Mount Jumolhari, Jichu Drakey and Tsherimgang mountains.
Detailed Itinerary
Day 1: Arrive in Paro
During the journey, one will experience breath-taking view of Mount Everest, Kanchenjunga and other famous Himalayan peaks including the sacred Jumolhari and Mount Jichu Drake in Bhutan. On arrival at Paro International Airport, you will be received by your guide and transferred to your hotel. Later in the afternoon visit Kichu Lhakhang,the oldest temple in the country built by the Tibetan King Songtsen Gampo in 8th century, and visit the Dilgo Khyentse Rinpoche Memorial House. The Memorial House in Kyichu, Dilgo Khyentse Rinpoche's primary residence in Bhutan, was inaugurated as a museum and opened to the public in 2010 to celebrate his centennial. It has been preserved almost exactly as it was when he lived there. Khyentse Rinpoche was one of the main spiritual teachers of the Bhutanese Royal Family. The house includes the reception room where Rinpoche gave private audiences and teachings and his bedroom where he meditated daily and recited prayers, visit the Ta Dzong, the house for the Bhutan National Museum and visit the Paro Dzong, built in 17th century and now houses government offices and religious institutions. In the evening, you can stroll through Paro town. Overnight hotel in Paro.
Day 2: Acclimatization hike to Tiger's Nest Monastery. 
After early breakfast this morning, you will hike to Taktsang (Tiger's Nest) Monastery, which is Bhutan's most famous monastery situated at 3180 meters. Guru Rinpoche (spiritual master) is said to have flown on the back of a tigress from Singye Dzong in Lhuntse to meditate in a cave where Taktsang Monastery now stands. The Monastery is perched on the edge of a steep cliff, about 900 meters above Paro Valley. Explore the monastery and hike back to the valley in the afternoon. Overnight hotel in Paro.
Day 3: Paro – Haa and hike to Sagala.
DISTANCE 5 KM | 3 HOURS | 450m ASCENT | CAMP ALT 3150m
Today after early breakfast, you will drive to Haa via Clele La Pass. Meet your trekking staff and trek through an unpaved motor road for less than hour keeping yourself on the left side of the villages. Taking the trail on the right side of the village, you will climb up gradually through yak herders camp till you will be met by two different trails. (The trail towards the left that goes to the summer yak herding camp and to the border of China is to be avoided). We take the right trail to make your final climb towards your camp just below Sagala pass, 3150 meters. Overnight camp at Sagala(3150 meters)
Day 4: Sagala-Ningula
DISTANCE 9 KM | 6 HOURS | 700m ASCENT | 100m DESCENT | CAMP ALT 3850M
Today, you will start climbing up for 30 minutes to Sagala pass, which on clear weather, you will have superb views of Mount Jumolhari (7,314m) and Jitchu Drake (6,989m). From the pass, walk on the right side of the trail. After making several ascents and descents, walking through the trails of rhododendrons and meadows, you will finally be on the top of the ridge which offers great views of Haa Valley below. Making occasional ascents and descents through forests of hemlock and juniper, you will reach at your camp at 3850 m. Overnight camp.
Day 5: Ningula via Kungkarpo pass to Paro
DISTANCE 11 KM | 6-7 HOURS | 500m ASCENT | 350m DESCENT
Descending for few minutes and following the ridge through meadows and yak herder's camp, we climb uphill through the forest of tall rhododendrons toward Kung Karpo Sky Burial at 4458m. The view of Haa valley is spectacular as you climb up through these stone cairns to Kung Karpo. From the sky burial, you will be walking up and down with panoramic view of Paro valley on left and Haa Valley on right. The view of Kila Goenpa Nunnery below is also spectacular. Walk further downhill until you reach Chelela pass (3990m), which is one of the highest motorable passes in Bhutan. Your vehicle will be waiting here to transfer you to Thimphu. Overnight hotel in Thimphu.
Day 6: Thimphu – Punakha.
After breakfast this morning, visit Buddha statue, School of Arts and Crafts (also known as the painting school); visit the King's Memorial Chorten (built in memory of the third King of Bhutan); and Changgangkha Monastery. After Lunch, enjoy the scenic drive to Punakha with a stop for tea at Dochu La (3,100 meters), where on a clear day you can get spectacular views of the Eastern Himalayas. From the pass, drive downhill through the forests of rhododendron, fir and hemlock. You will arrive Punakha. On arrival check into hotel. Overnight hotel in Punakha.
Day 7: Punakha – Paro.
Today you will drive back to Paro via Dochula pass. Before you proceed to paro, you will stop at Metsina village and take a 20 minute walk through the rice fields to Chimi Lhakhang, which is a fertility temple, visit the Punakha Dzong, one of the most beautiful Dzong in Bhutan situated inbetween the male and female rivers like an anchored ship. After exploring Punakha Dzong, you will proceed to Paro with a stop at Dochula pass for the Lunch. After lunch, you will continue drive to Paro. Overnight hotel in Paro.
Day 8: Departure
Drive to the airport for departure. Our representative will bid you farewell.
At a Glance
Tour duration: 8 Days | 7 Nights
Difficulty level: Moderate to Hard
Tour type: Hiking and Camping

Festival:
March departure may attend the Paro and Talo festivals
April departure may attend the Domkhar and Rhododendron festivals
September departure may attend the Thimphu, Gangtey and Wangdue festivals
August departure may attend the Mushroom festival
November departure may attend the Black-necked crane festival

Best season: March, April, May, September, October and November
Activity type: Cultural sightseeing, Home stay, Camping, Religious sites and Trek
Places covered: Thimphu, Punakha, Wangdue, Haa and Paro
Maximum elevation: 4458m
Inclusions
Sustainable Development Fee(SDF)
Accommodation
All meals
Transport
Government certified Bhutanese Licensed tour Guide
Bhutan Visa fee
All internal taxes & charges

On trek includes:
Sleeping tents
Dining tents
Toilet and shower tents
Toilet seats
Mats
Duffle bags
Cooking utensils
All meals
Guide
Trek chef assistants
Horses
Exclusions
Flight tickets
Travel Insurance
Tips
Drinks and Beverages other than tea and coffee
Sleeping bag on trek
Internet bill and Phone bill
Other bills of personal nature
Accommodation
Accommodation in 3 star hotels (upgrade with supplement)
Tented campsite accommodation on trek
Insurance
Package does not include insurance of any kind, and that you are required to obtain separate coverage from your home country before your trip begins.