Ura Yakchoe Festival Tour - 10 Days | 9 Nights
From
US$

3280 / Per Person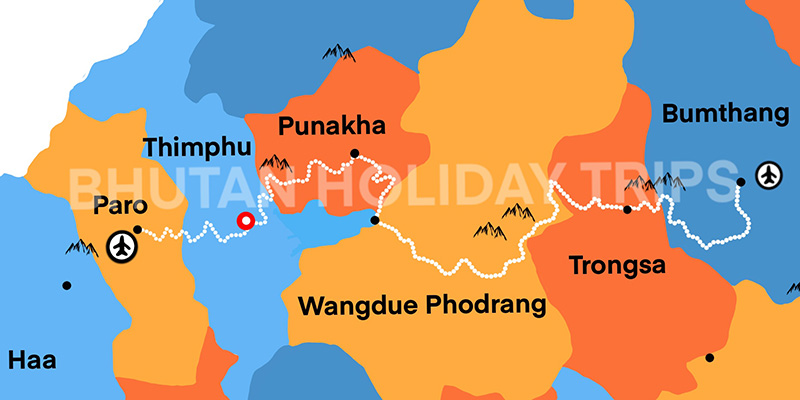 Highlights
Discover some of the unique Himalayan culture.
Discover some of the most sacred monasteries, medieval fortresses and temples.
Attend most popular Ura festival with locals.
Enjoy a walk around Bumthang valley.
Visit Switzerland of Bhutan.
Visit local farm house taste Bhutanese cuisine.
Hike to Tiger's Nest.
URA Yakchoe is held in Ura Lakhang situated in the middle of Ura village in Bumthang. It was built in 1980s. Highlight of the events is invoking and escorting of the deity Yidam Chhana Dorjee from Gaythen to Ura.
Detailed Itinerary
Day 1 (29 April, Saturday): Arrive Paro international airport.
During the journey, one will experience breath-taking view of Mount Everest, Kanchenjunga and other famous Himalayan peaks including the sacred Jumolhari and Mount Jichu Drake in Bhutan. On arrival at Paro International Airport, you will be received by your guide and take you to Thimphu which is 54 km from Paro Airport and about 45 minutes drive. Later in the afternoon  visit the King's Memorial Chorten (built in memory of the third King of Bhutan); Changgangkha Monastery; visit the mini zoo where you will see national animal of Bhutan Takin, and the majestic Tashichhodzong. Overnight hotel in Thimphu.
Day 2 (30 April, Sunday): Thimphu
After breakfast, visit Buddha statue, School of Arts and Crafts (also known as the painting school); Traditional paper factory, visit Post office were you can personalize your stamp,  Traditional Paper Factory, visit weaving centre, Semtokha Dzong. Evening: Stroll through the town. Overnight hotel in Thimphu.
Day 3 (1 May, Monday): Thimphu – Punakha
 After breakfast this morning, enjoy the scenic drive to Punakha with a stop for tea at Dochu La (3,100 meters), where on a clear day you can get spectacular views of the Eastern Himalayas. From the pass, drive downhill through the forests of rhododendron, fir and hemlock. You will arrive Punakha  after traversing through rice field and along the bank of Punakha River. On the way to Punakha, you will stop at Metsina village and take a 20 minute walk through the rice fields to Chimi Lhakhang, which is a fertility temple. After Lunch you will visit the Punakha Dzong, which is stunningly situated inbetween the male and female rivers like an anchored ship. Overnight hotel in Punakha
Day 4 (2 May, Tuesday): Punakha – Trongsa
After early Breakfast you will start your drive to Trongsa. You will reach Pelela pass( 3300m) and stop for few minutes for the photo and stretch your muscle. Your next stop will be at chendabjee for lunch. After lunch continue your drive Trongsa, you will visit Trongsa Dzong. Overnight at hotel in Trongsa.
Day 5 (3 May, Wednesday): Trongsa to Bumthang.
After early Breakfast you will start your drive to Bumthang. On the way you will cross Yontongla pass(3450m) and after pass you will enter in to Bumthang region. Along the way you will stop at the Yathra (textile weaving) factory, where the Yathras are designed with unique Patterns that have been conserved long way back in Bumthang, and you can even watch some of the weavers at their looms.  After lunch you will visit  Kurjey Lakhang, where Guru Rinpochee left his body imprints inside cave. You will also visit Jambay lakhang, Tamshing lakhang, . Evening you can stroll freely in the town.  Overnight hotel in Bumthang.
Day 6 (4 May, Thursday): Bumthang (Ura Yakchoe Festival) 
Today you will drive to Ura crossing Ura la pass (3590m). Just before reaching this pass you can get a view of Mount Gangkar Puensum (7541m) to the northeast. Ura is a unique village with clustered of houses giving a medieval look because of the cobblestone streets, and the typical sheepskin shawl that women wear. Enjoy full day of festival dances and celebrations with the people of Ura and nearby villages. Later in the evening, you will drive back to Bumthang. Overnight hotel in Bumthang..
 Day 7 (5 May, Friday): Bumthang – Phobjekha.
After early breakfast you will be driving to Phobjekha valley which is a famous for winter roosting place for Black necked crane.  In Phobjekha valley you will be hiking  Gangtey  Natural Trail.
The most beautiful and shortest of the existing nature trails in Bhutan. The trail hike starts from the mani (like Chhorten) stone wall to the north of the Ganagtey Gonpa and ends in Khewa Lhakhang. The hike takes about 1hr 30minutes through the pine forest and small bamboo plants. You can see the Phobjkha valley so beautifully from this hike. It is one of the best hike places for the Nature lovers. During the winter months, we can see the endangered species of birds Black Neck Cranes. . Overnight hotel in Bumthang.
 Day 8 (6 May, Saturday): Phobjekha – Paro
After early breakfast Drive to Paro with a stop at Dochula for lunch . After lunch proceed towards Paro. You will visit Paro Dzong. It was built in 17th century and now houses government offices and religious institutions. Then you will visit Kichu Lhakhang, the oldest temple in the country built by the Tibetan King Songtsen Gampo in 8th century . Overnight hotel in Paro.
Day 9 (7 May, Sunday): Paro. Hike to Tiger's Nest Monastery
In the morning you will hike to Taktsang (Tiger's Nest) Monastery, which is Bhutan's most famous monastery situated at 3180 meters. Guru Rinpoche (spiritual master) is said to have flown on the back of a tigress from Singye Dzong in Lhuntse to meditate in a cave where Taktsang Monastery now stands. The Monastery is perched on the edge of a steep cliff, about 900 meters above Paro Valley. Lunch will be served at the Cafeteria. Explore the monastery and hike back to the valley in the afternoon. Overnight hotel in Paro.
Day 10 (8 May, Monday): Departure
Drive to the airport for departure. Our representative will bid you farewell.
At a Glance
Tour duration: 10 Days | 9 Nights
Tour Type: Festival with Cultural tour
Festival Date: 02 – 06 May 2023
Activity Type: Attend festival, Cultural sightseeing, Home stay tour, Religious sites and Day hikes.
Places covered: Thimphu, Punakha, Trongsa, Bumthang, Phobjikha and Paro
Maximum elevation: 3436m
Inclusions
Sustainable Development Fee(SDF)
Accommodation
All meals
Transport
Government certified Bhutanese Licensed tour Guide
Bhutan Visa fee
All internal taxes & charges
Exclusions
Flight tickets
Travel Insurance
Tips
Drinks and Beverages other than tea and coffee
Sleeping bag on trek
Internet bill and Phone bill
Other bills of personal nature
Accommodation
Accommodation in 3 star hotels (upgrade with supplement)
Homestay accommodation certified by Tourism Council Bhutan
Camping (optional)
Insurance
Package does not include insurance of any kinds, and that you are required to obtain separate coverage from your home country before your trip begins.