Gasa Hotspring Tour - 8 Days | 7 Nights
From
US$

2560 / Per Person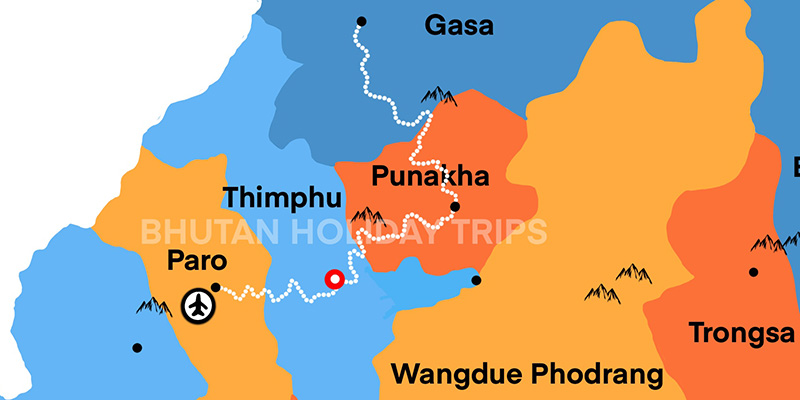 Highlights
Gasa festival is the largest festival of Northern Bhutan and is celebrated with entire community.
These unique cultural performances cannot be witnessed in any other part of the world, and thus, this festival attracts large crowds.
Gasa Hot Spring is said to have capabilities of healing many health problems such as Sinusitis, gastrointestinal ulcers, sunburn, facial sores, dermatological diseases and nasal sores and injuries.
Explore the key cultural sites of Thimphu, Punakha, Paro including Gasa.
Visit Switzerland of Bhutan.
Visit local farm house taste Bhutanese cuisine.
Hike to Tiger's Nest
Gasa Hot Spring, nestled in the pristine landscapes of Bhutan, is a natural wonder celebrated not only for its enchanting beauty but also for its reputed healing properties. Known to locals as "Tshachhu," this sacred hot spring has garnered a reputation over centuries for its therapeutic effects on a range of health issues. One of the ailments that hotspring is believed to alleviate is sinusitis. The soothing, warm waters are said to help clear nasal passages, relieving congestion and discomfort. The mineral-rich composition of the spring's waters may also play a role in promoting healing and reducing inflammation in the sinuses.For those suffering from gastrointestinal ulcers, a dip in the hotspring may provide relief. The mineral content of the water is thought to have a calming effect on the digestive system, potentially alleviating symptoms and promoting healing over time.The healing properties of hotspring extend to skin-related conditions as well. Sunburn, a common issue for travelers exploring Bhutan's breathtaking landscapes, may find relief in the spring's therapeutic waters. Additionally, the spring's mineral composition could aid in the treatment of facial sores and dermatological diseases, promoting skin health and rejuvenation.Furthermore, Gasa Hot Spring is believed to be effective in addressing nasal sores and injuries. The warm water's gentle, soothing nature can help cleanse and disinfect nasal passages, potentially speeding up the healing process for individuals with such issues.Beyond its potential health benefits, hotspring offers a serene and rejuvenating environment for visitors. Surrounded by lush forests and pristine natural beauty, it provides a peaceful retreat where guests can relax and unwind, immersing themselves in the tranquil ambiance of Bhutan's wilderness.While the healing properties of hotspring are a subject of local lore and anecdotal evidence, many visitors come seeking not only physical relief but also a deeper connection with the natural world. Whether for its therapeutic effects or the opportunity for relaxation in a stunning natural setting, hotspring continues to be a cherished destination for travelers seeking both healing and serenity amidst the Himalayan splendor of Bhutan.
Detailed Itinerary
 Day 1 (25 March, Saturday) : Paro
During the journey, one will experience breath-taking view of Mount Everest, Kanchenjunga and other famous Himalayan peaks including the sacred Jumolhari and Mount Jichu Drake in Bhutan. On arrival at Paro International Airport, you will be received by your guide and transfer you to the Hotel.  Later in the afternoon You will visit Paro Dzong. It was built in 17th century and now houses government offices and religious institutions. Then you will visit Kichu Lhakhang, the oldest temple in the country built by the Tibetan King Songtsen Gampo in 8th century. In the evening you can stroll in the paro town. Overnight hotel in Paro.
Day 2 (26 March, Sunday) : Par- Hike to Tiger's Nest Monastery
In the morning you will hike to Taktsang (Tiger's Nest) Monastery, which is Bhutan's most famous monastery situated at 3180 meters. Guru Rinpoche (spiritual master) is said to have flown on the back of a tigress from Singye Dzong in Lhuntse to meditate in a cave where Taktsang Monastery now stands. The Moanstery is perched on the edge of a steep cliff, about 900 meters above Paro Valley. Lunch will be served at the Cafeteria. Explore the monastery and hike back to the valley in the afternoon. Overnight hotel in Paro.
Day 3 (27 March, Monday) : Paro – Thimphu
Today after breakfast you will drive to Thimphu  capital city of Bhutan which is 54 km from Paro  and about 45 minutes drive. You will visit the King's Memorial Chorten (built in memory of the third King of Bhutan); Changgangkha Monastery; visit Buddha statue, School of Arts and Crafts (also known as the painting school); Traditional paper factory, visit Post office were you can personalize your stamp, Traditional Paper Factory, visit the mini zoo where you will see national animal of Bhutan Takin, and the majestic Tashichhodzong. Overnight hotel in Thimphu.
Day 4 (28 March, Tuesday) : Thimphu – Punakha
After breakfast this morning, enjoy the scenic drive to Punakha with a stop for tea at Dochu La (3,100 meters), where on a clear day you can get spectacular views of the Eastern Himalayas. From the pass, drive downhill through the forests of rhododendron, fir and hemlock. You will arrive Punakha  after traversing through rice field and along the bank of Punakha River. On the way to Punakha, you will stop at Metsina village and take a 20 minute walk through the rice fields to Chimi Lhakhang, which is a fertility temple. After Lunch you will visit the Punakha Dzong, which is stunningly situated inbetween the male and female rivers like an anchored ship. Overnight hotel in Punakha.
Day 5 (29 March, Wednesday) : Punakha – Gasa
Today you will begin your drive to Gasa.  It is northern most district of the country adjoins the district of Punakha, Thimphu and Wangdue Phodrang and Tibet to its north. You will drive passing through the pine and oak forest, villages and wheat fields.  Later in the afternoon you will spend relaxing time soaking in to Hot spring. Overnight in Tented camp.
Day 6 (30 March, Thursday) : Gasa Festival
Today after your breakfast, attend the full day Gasa festival. It offers the best opportunity to mingle with local people who come out with their best dress to witness the festival.  Today you will have hot picnic lunch in festival ground with some of the locals. It is a good time for you to interact and share your views with them.  Laterernoon, you  will drive back to camp site.  Evening you will spend relaxing time soaking in to Hot spring. Overnight in Tented camp.
Day 7 (31 March, Friday) : Gasa – Thimphu
After breakfast, you will drive back to Thimphu with the stop at Menchuna for Lunch. After lunch proceed continue to Thimuphu. On arrival Check in Hotel.  Evening stroll freely in the town. Overnight hotel in Thimphu.
Day 8 (1 April, Saturday) : Thimphu-Paro – Departure
Drive to the Paro airport for departure. Our representative will bid you farewell
At a Glance
Tour duration: 7 Days | 6 Nights
Tour type: Festival Tour with Hot spring
Festival date: 29 – 31 March 2023
Activity type: Cultural tour, Attend festival, Historical sites, Hot spring, Religious sites and Day hike
Places covered: Thimphu, Punakha and Paro
Maximum elevation: 3150m
Inclusions
Sustainable Development Fee(SDF)
Accommodation
All meals
Transport
Government certified Bhutanese Licensed tour Guide
Bhutan Visa fee
All internal taxes & charges
Exclusions
Flight tickets
Travel Insurance
Tips
Drinks and Beverages other than tea and coffee
Sleeping bag on trek
Internet bill and Phone bill
Other bills of personal nature
Accommodation
Accommodation in 3 star hotels (upgrade with supplement)
Homestay accommodation certified by Tourism Council Bhutan
Camping (optional)
Insurance
Package does not include insurance of any kind, and that you are required to obtain separate coverage from your home country before your trip begins.