Gomkora Festival Tour - 13 Days | 12 Nights
From
US$

4360 / Per Person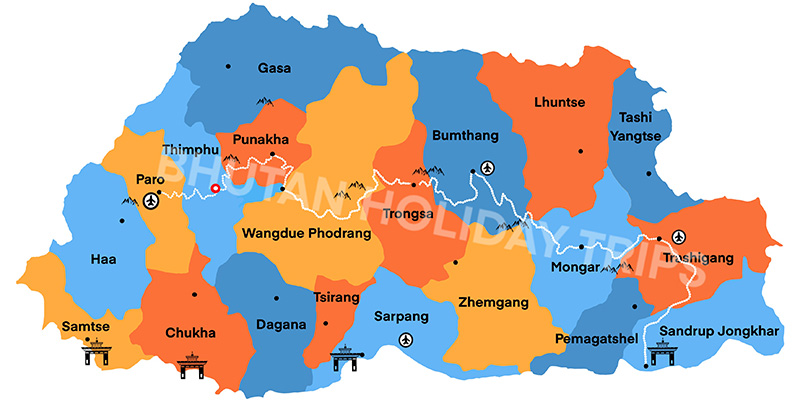 Highlights
Get an opportunity to taste the immortal water, which comes from the cave, and happens only during the festival and is considered to be greatly auspicious.
"Go around Gomphu kora today for tomorrow may be too late", advices a local song that entices devotees to visit Gomphu kora.
Attend Gomkora festival with the local peoples.
Explore the key cultural sites of eastern, western and central Bhutan.
Discover some of the most sacred monasteries, medieval fortresses and temples.
Hike to Tiger's Nest.
Gomkora festival is one of the most popular in eastern Bhutan and attracts the Dakpa tribe from neighboring Arunachal Pradesh (India), who walk for days to reach there. The annual festival draws a huge crowd of visitors to the enchanting location.
According to the legend, the demon escape from Tibet and fled to the site and hide inside a big rock that stands today where the festival takes place. Guru Rinpoche meditated at the cave inside the rock for three days. The demon took the form of a big snake and Guru Rinpoche subdued him in the form of a Garuda (a giant mystical bird).
Detailed Itinerary
Day 1 (28 March, Tuesday): Guwahati – Samdrup Jongkhar
Our representative will receive you at the Guwahati airport and escort you to Samdrup Jongkhar through tea gardens, transparent rivers interspersed with quiet villages, and small townships of vibrant culture. Evening, take a walk-through town.
Day 2 (29 March, Wednesday): Samdrup Jongkhar – Trashigang
After breakfast, you will begin your journey to Trashigang, the major commercial hub of the eastern Bhutan. This is going to be stunning journey passing through varied tropical to broadleaved forests, villages and varied vegetation zones. Make stops at Narphung, Wamrong, Khaling and Kanglung to interact with locals.
Day 3 (30 March, Thursday): Gomkora Festival
Enjoy the festival with locals who come from all over eastern Bhutan. The festival even draws the Dakpa tribe from neighboring Arunachal Pradesh in India. The biggest attraction of Gomkora is the circumambulation. "Go around today for tomorrow may be too late", advises a local song that entices devotees to visit the festival.
Day 4 (31 March, Friday): Trashigang – Mongar
Proceed to Mongar passing through several villages. The road follows the Gamri River through cornfields and banana grooves and then ascends gradually to Yadi. Stop here for a while for a cup of tea. Then drive further up till the Kori La Pass (2450m) – famous spot for the avid birders and descend till you reach Mongar. In the evening, you can wander around Mongar town and sit down to a relaxing dinner.
Day 5 (1 April, Saturday): Mongar – Bumthang
You will begin your journey to central Bhutan, which is different from eastern Bhutan in terms of development and lifestyle. The drive on this day is an exhilarating 6 hours, particularly the Thrumshing La (pass), which peaks at 3,750 meters. Stop for your picnic lunch at the Pass enjoying the great sceneries around. You can walk on the certain stretches of road to relax your muscles while your car will be following behind you. You will pass through Ura village, which has a medieval look because of the cobblestone streets, and the typical clothing of the women.
Day 6 (2 April, Sunday): Bumthang
A full day tour in Bumthang may include the historic Jakar Dzong, Kurjey Lhakhang (associated with Guru Rimpoche, who bought Tantric Buddhism to Bhutan and Tibet), Jambay Lhakhang (dating from the 8th century) and Tamshing Lhakhang (built in 1501 by the Buddhist saint Pema Lingpa). In the afternoon, you can walk around in Bumthang town and interact with locals.
Day 7 (3 April, Monday): Bumthang – Punakha
Today, you will drive to Punakha. En route, visit Trongsa Dzong, the masterpiece of Bhutanese architecture. Lunch will be served at Chendebji which has a Chorten built in Nepalese style with eyes painted at four cardinal points. After long exhilarating drive passing through two spectacular high passes, you will arrive Punakha
Day 8 (4 April, Tuesday): Punakha
After breakfast, visit Punakha Dzong, winter seat of the Je Khenpo and the Monk Body. Drive to Lobesa and hike other 20-minutes to Chime Lhakhang, temple of the "Divine Madman" popularly considered to be a temple of fertility. After lunch, you will cross the suspension bridge and then hike to Khamsum Yulley Namgyal Chorten through rice terraces, farms, and deep pine forest. The view from here is stunning. Walk down till road point where your car will be waiting.
Day 9 (5 April, Wednesday): Punakha – Thimphu
Drive to the capital, crossing the Dochula Pass and enjoying stunning views of the Himalayas. At Dochula, you can also visit the new Druk Wangyal Monastery, which is the only of its kind in the country with elaborate paintings depicting the lineage of the present monarchy and their visionary works. In afternoon, enjoy a stroll in Thimphu city.
Day 10 (6 April, Thursday): Thimphu
Enjoy some sightseeing in Thimphu with a visit to King's Memorial Chorten (which was built in honor of late King Jigme Dorji Wangchuck), School of Arts and Crafts (also known as the painting school), National Institute of Traditional Medicine, Buddha Point, and Motithang Takin Preserve. In the afternoon, visit the Tashi Chhoedzong, known as the "Fortress of Glorious Religion". Also visit local archery ground and watch locals playing archery.
Day 11 (7 April, Friday): Thimphu – Paro
After breakfast, you will drive to Paro with stop en route at Chhuzom (confluence), where you can see local farmers sit by the side of the road selling vegetables, apples and dried cheese. After lunch, sightseeing in Paro includes the Rimpung Dzong, dating back to the 17th century. From the Dzong, you can walk down to the road head crossing a traditional wooden bridge. From here, you will be taken to Kichu Lhakhang, one of the oldest and the most sacred shrine in the country. In evening, enjoy a stroll in Paro town.
Day 12 (8 April, Saturday): Hike to Tiger's Nest Monastery
Conclude your stay in Bhutan by hiking to the Taktsang (Tiger's Nest) monastery, the most famous pilgrim site, which clings to the rock at 3180m. According to the legend, it is believed that Guru Rimpoche, the 8th century Spiritual Master, flew to this location on the back of a tigress to meditate. Lunch will be served at Cafeteria Restaurant halfway up on the mountain. Explore the monastery and hike back to Paro.
Day 13 (9 April, Sunday): Depart Paro
You will drive to the airport for departure. Our representative will bid you farewell.
At a Glance
Tour duration: 13 Days | 12 Nights
Tour type: Festival Tour
Festival date: 29 – 31 March 2023
Activity type: Cultural tour, Attend festival, Historical sites, Village tour, Religious sites and Day hike.
Places covered: Samdrupjongkhar, Trashigang, Mongar, Bumthang, Punakha, Trongsa, Thimphu and Paro
Maximum elevation: 3780m
Inclusions
Sustainable Development Fee(SDF)
Accommodation
All meals
Transport
Government certified Bhutanese Licensed tour Guide
Bhutan Visa fee
All internal taxes & charges
Exclusions
Flight tickets
Travel Insurance
Tips
Drinks and Beverages other than tea and coffee
Sleeping bag on trek
Internet bill and Phone bill
Other bills of personal nature
Accommodation
Accommodation in 3 star hotels (upgrade with supplement)
Homestay accommodation certified by Tourism Council Bhutan
Camping (optional)
Insurance
Package does not include insurance of any kinds, and that you are required to obtain separate coverage from your home country before your trip begins.