Snowman Trek in Bhutan - 28 Days | 27 Nights
From
US$

11920 / Per Person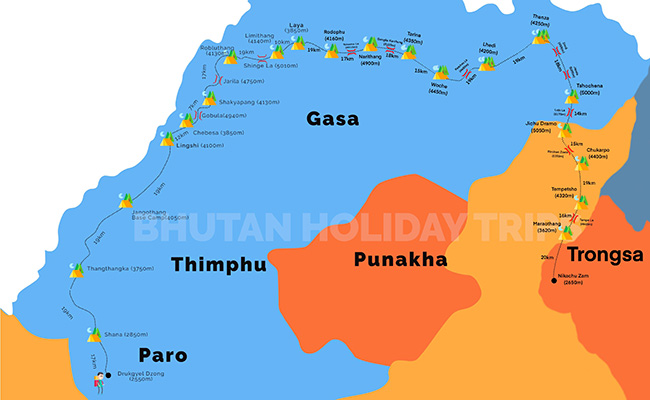 Highlights
The trek starts from Drugyl Dzong in Paro and ends at Nika chhu zam in Trongsa.
Trek through high altitude lakes, grazing meadows and pastures, snow-capped mountains, high passes and terrains.
Spectacular scenery from the start of the trek  till the end of the trek.
Cross two high mountain passes: Rinchen Zoe pass at 5350m and Ganglakarchung pass at 5120m.
Experience unique cultures of nomads of Laya , Linshi and Thanza.
Mountains views on trek: Mount Jumolhari at 7314m, Jichu Drake at 6989m, Tsherimgang at 6789m, Kangbum at 6526m, Tiger Mountain at 6840m and Tsenda Gang at 7100m.
Snowman trek in Bhutan is one of the most demanding and the beautiful treks in Bhutan. The 28 days long trek goes on northern Bhutan along the border with Tibet crossing thirteen Himalayan mountain passes as high as 5000 meter above sea level . The trekkers pass through stunning Himalayan mountain views of Jomolhari, Jichu Drake, Masagang, Tiger Mountain and Gangkar Puensum- the worlds highest unclimbed mountain and other conspicuous peaks along the northern border. Today many trekkers opt to trek the snowman trailer before hitting the trails of Mt Everest.
Detailed Itinerary
Day 1: Arrive Paro
During the journey, one will experience breath-taking view of Mount Everest, Kanchenjunga and other famous Himalayan peaks including the sacred Jumolhari and Mount Jichu Drake in Bhutan. On arrival at Paro International Airport, you will be received by your guide and transfer you to the Hotel.  Later in the afternoon you will visit Paro Dzong. It was built in 17th century and now houses government offices and religious institutions. Then you will visit Kichu Lhakhang, the oldest temple in the country built by the Tibetan King Songtsen Gampo in 8th century. In the evening you can stroll in the paro town. Overnight hotel in Paro.
Day : Acclimatization Hike to Tiger's Nest Monastery
In the morning you will hike to Taktsang (Tiger's Nest) Monastery, which is Bhutan's most famous monastery situated at 3180 meters. Guru Rinpoche (spiritual master) is said to have flown on the back of a tigress from Singye Dzong in Lhuntse to meditate in a cave where Taktsang Monastery now stands. The Moanstery is perched on the edge of a steep cliff, about 900 meters above Paro Valley. Lunch will be served at the Cafeteria. Explore the monastery and hike back to the valley in the afternoon. Overnight hotel in Paro.
Day 3: Drukgyal Dzong- Shana (Trek starts)
DISTANCE 15KMS | Time: 5hrs.| Ascent: 310m | Decent: 80m| Altitude: 2580m-2890m
Walk along the dirt road through wide, rich, cultivated valley, beneath forest-covered mountains, following the Paro Chhu. You will encounter the first settlement comprising of big, magnificent traditional buildings with bright red chilies dried on their roofs in season. Not far from here, at Gunitsawa, you will pass army check point and your trekking permits will be checked and endorsed here. The Shana campsite is just half an hour walk from here. Overnight in Tented camp.
Day 4: Shana-Soi Thangthanka
DISTANCE 22KMS | Time: 6-8hrs.| Ascent: 685m | Decent: 0m| Altitude: 2890m-3575m
This is a hard day as the altitude gain is above the limit. You will come across the first bridge en route from Tibet to Bhutan that was used by the travellers once upon a time. The trail climbs steadily through beautiful thick forest consisting mainly of, Oak, Rhododendron, Bamboo, Fern, Birch, Fir, Larch, Maple and Blue Pine. The route has lots of small rises and drops with a vision of amazing snow-capped Jhomolhari on the north. The hard day of walking comes to an end at Soi Thangthanka camp, which is in a big meadow. Overnight in Tented camp.
Day 5 : Soi Thangthanka- Jangothang(Jomolhari Base camp)
DISTANCE 17KMS | Time: 4-6hrs.| Ascent: 469m | Decent: 0m| Altitude: 3575m-4044m
The view of Jhomolhari fades away as you leave the camp inflowing forest on the way towards the Army camp. Late in spring, Blue Poppy (Bhutan's national flower) has been spotted. The Military camp has Bhutanese and Indian army personnel guarding another pass to Tibet. The trail takes you through six remote villages and you might be invited into one of the houses for a cup of famous butter tea. After crossing the settlements, the summits of spiky peak Jitchu Drakey, Tshering Kang and Jhomolhari appear to get closer. Cross a bridge and suddenly the irresistible snow-and-ice- covered east face of Jhomolhari appears, with its massive 3200m- high wall of granite, marble, and quartzite. You have reached Jhomolhari camp. Overnight in Tented camp.
Day 6 : Jangothang(Jomolhari Base camp) Rest Day
DISTANCE 17KMS | Time: 4-6hrs.| Ascent: 469m | Decent: 0m| Altitude: 3575m-4044m
Rest day at Jhomolhari camp will help with acclimatization as most people will feel the effects of ascending 1800m in three days. There are some good day hikes from the camp, and it is important to hike so that you will acclimatize. Follow the standard trek rule: trek high, sleep low. Overnight in Tented camp.
Day 7 : Jangothang-Lingshi
DISTANCE 21KMS | Time: 5-6hrs.| Ascent: 845m | Decent: 880m| Altitude: 4044m-4890m
It is a long climb to reach the first high and very windy pass of this trek, Nyile La pass(4890m). From the pass, you can get the views of overpowering mountains covered with snow. The route descends from the pass leading to a viewing point from which Lingshi Dzong can be seen in its full glory; a powerful, solitary structure in the middle of an enormous wilderness. Further 900m descend, you reach Lingshi camp. You can walk around Lingshi village and visit the Dzong. Overnight in Tented camp.
Day 8 : Lingshi-Chebisa
DISTANCE 16KMS | Time: 3-4hrs.| Ascent:  | Decent: | Altitude: 4809m-3990m
The route from Lingshi to Chebisa is the most pleasant walk of the trek. The hillsides are partly roofed with medicinal plants. The route passes through a small pass and a village with few households. There is a Dzong in the village which was renovated in 2003 by the community. After visiting the Dzong, continue walking and Chebisa campsite is reached after crossing a little pass. Overnight in Tented camp.
At the end of the valley, a trail leads into Tibet. The extraordinary medicinal plant "Delphinium brunonianum" 'Royal' can be found. It is a beautiful, light purple, delicate-looking flower, which booms in the summer and has a musky aroma. The seeds are collected in summer.
Day 9 : Chebisa-Shakyapang
DISTANCE 14KMS | Time: 5| Ascent: 450m | Decent: 440m| Altitude: 3990m-4000m
The track leading to a peak called Inela through the grassy slope of the village is rigid and vertical. On the way you might see herd of Himalayan Blue sheep, and possibly bearded vulture. The trail levels out and traverses a pass- Gombu La(4940m). From the pass, the greasy (sometimes) route descends towards the valley covered with Rhododendron forest. The trail passes some rock cliffs containing salt minerals and towards the end of the hike, the route descends through the forest on a wet trail to the valley of Shakyapasang campsite. The valley is one of the more stunning ones on the trek. Overnight in Tented camp.
Day 10: Shakyapang-Robluthang
DISTANCE 16KMS | Time: 7-8hrs.| Ascent: 160m | Decent: 785m| Altitude: 4000m-4160m
The day begins with a short climb and later levels and changes the direction. Watch for herd of Himalayan Blue sheep; snow leopard footprints have been spotted here. Jare la(4785m) is a small pass with several cairns and prayer flags, which marks the border between Lingshi and Laya for grazing Yaks. Jare la is a good viewing spot. You can see magnificent snow-capped Himalaya. Now the descent starts steeply snaking through Rhododendron bushes, Spruce, Larch, Silver Fir, Oak and various Pines and grassy slope all the way down to the valley. After crossing numerous rivers and swampy valleys you reach Robluthang campsite. Overnight in Tented camp.
Day 11: Robluthang-Limithang
DISTANCE 14KMS | Time: 6-7hrs.| Ascent: 840m | Decent: 840m| Altitude: 4160m-4160m
The trail crosses several streams and a pass Sinche la(5000m). The trail is more of zigzag, grassy and slippery till the end. The trail gets you through glacial valley and yak pasture lands, and the lowest point in the horizon as well. The hillsides are roofed with medicinal plants "Rheum nobile" and there is possibility of seeing Blue sheep. The route offers great views of five Bhutan Himalayas ranging from 4617m to 7194m above sea level. From here, continue descending through some huts until you reach sandy place next to a moraine. 20 minutes after crossing a bridge, Limithang campsite is reached walking through beautiful Cedar forest. Overnight in Tented camp.
Day 12: Limithang- Laya
DISTANCE 9KMS | Time: 4hrs.| Ascent: few small climb | Decent: 360m| Altitude: 4160m-3800m
The route crosses several streams, Cedar and Fir forest with an immense view of the Great Tiger Mountain. After some small ups and downs and crossing a ridge you reach a Chorten and prosperous Laya village with Tsenda Gang Peak in the distance to the northeast. Laya geog has six villages and it is part of the Jigme Dorji National Park. Overnight in Tented camp.
Day 13: Laya (Rest day)
DISTANCE 00KMS | Time: 00hrs.| Ascent: 00m | Decent: m| Altitude: 3800m-3800
Walk around Laya village, it's a worthwhile. You can visit some of the houses and the hosts will be happy to have a guest, but watch out for dogs! There is a school in the village and few Temples were you can visit. If you feel little adventurous, go for Yak riding! Apparently there are more than 20 yaks that are safe enough. There are some good hikes from Laya. Overnight in Tented camp.
Day 14: Laya-Robluthang
DISTANCE 19KMS | Time: 7-8hrs.| Ascent: 900m | Decent: 70m| Altitude: 3800m-4160m
The trek leads down to the Lunana trail junction and then climbs to hilltop with good views over the Mo Chhu and the Rhodo Chhu. The trail follows Rhodo Chhu valley, first through mixed conifers and then through rhododendron, above the tree line. From top of large rockslide, there is a view of the glacial valley and a massive glacier on Tsenda Gang (7100m). Our camp is at Rodophu at 4160m just beyond a wooden bridge across the Rhodo Chhu river.
Day 15: Robluthang – Narithang
DISTANCE 17KMS | Time: 5-6hrs.| Ascent: 755m | Decent: 15m| Altitude: 4160m-4900
The trail today also follows the alpine grassland where yaks bound in plenty. The path follows the river through rhododendron shrubs before turning right up the hill. You will then climb to a high open valley through meadows to Tshomo La Pass (4915m). The views of the Mount Jomolhari and Tibetan borders are absolutely breathtaking. Next you will hiking on the barren plateau intersecting several yak trails and after some time you will be arriving at Narithang (4900m), which is your camp for tonight.
Day 16: Narithang – Tarina
DISTANCE 18KMS | Time: 6-7hrs.| Ascent: 220m | Decent: 770m| Altitude: 4900m-4350m
Today you will be climbing Ganglakarchung Pass at an altitude of 5120m. From the pass, the views of Kangbum (6530m), Tsendhen Gang (7100m), Teri Gang (7300m) and Jejegangphu Gang (7120m) are superb. You will descend through massive moraines to the edge of straight cliff with views of glacial hanging from Teri Gang that forms two turquoise-colored lakes at the base. The lake towards the left in 1961 due to outburst has caused a flood downstream in Punakha destroying the Mochu Bridge. Descend through a steep path to the U-shaped valley following the Tangchu stream towards right to arrive at your camp at 4350m.
Day 17: Tarina – Woche
DISTANCE 15KMS | Time: 5-6hrs.| Ascent: 250m | Decent: 310m| Altitude: 4350m-4350m
Your trail passes through the junipers down the Tangchu River on the left passing through amazing waterfalls. After a gentle climb out of the valley for sometime, you will be making a steep ascent to Woche Village, the first settlement in Lunana region at an altitude of 4350m. The Woche village marks the beginning of the Lunana region and above the village, you will see tomorrow's route to Ledhi
Day 18: Woche – Lhedi
DISTANCE 19KMS | Time: 6-7hrs.| Ascent: 300m | Decent: 3450m| Altitude: 4350m-4200m
Start climbing up the Woche valley and cross a small stream to go over a moraine. You will then descend to a wooden bridge across a Woche Chu River and climb up past a clear glacial lake to reach Keche La pass (4650m) with magnificent views of nearby mountains including three-prong peaks of Jejegangphu Gang mountain. The trail then descends to Pochu Valley and reaches Thaga village at 4050m. In the late afternoons, one can expect bitterly cold winds at Thaga Vilalge in autumn. From the Thaga village, we descend passing few scattered settlements, waterfalls and reach Lhedi (4200m) after walking along the Phochu River bed. Lhedi village consists of a school, Basic Health Unit and a wireless station.
Day 19: Lhedi – Thanza
DISTANCE 19KMS | Time: 5-6hrs.| Ascent: 250m | Altitude: 4200m-4250m
The trek is slightly easy today. We will follow the north bank of Phochu River passing through several small farms and then reach Chuzo Village (4090m) sometime around the lunchtime. Enroute visit the Chezo Dzong. We follow the trail along the riverbed and then climb a steep hill overlooking Thanza valley at 4250m.
Day 20: Thanza ( Rest day at Thanza)
You have two optional activities for today. You can either visit the Thanza village or explore nearby glacial lakes. Thanza Village is virtually untouched, medieval-like society. Most people wear clothes they make by hand, weaving and dyeing their own material. They fashion their own unique hats, boots and and jewelry. Their homes are built from stone walls, hand-hewn wood shingles and clay mortar. They survive on grains battered with yak meat and cheese from the lower valleys. Optionally, you can hike through small moraine rocks to clusters of Raphstreng Tsho and Thorthormi Tsho. These lakes are the source of Phochu River of Punakha, which caused a flood in 1994 due to moraine outburst. The view of 7100m Table Mountain (locally known as Zongphu Gang) is superb as it forms 3000m high wall of ice and snow behind Thanza Village.
Day 21: Thanza – Tshochena
DISTANCE 18KMS | Time: 7-8hrs.| Ascent: 750m | Altitude: 4250m-5000m
You will climb to a large boulders hill towards south of Thanza and after few hours of easy walk, we reach Danji (4500m), which is a summer grazing ground for the yaks. At Danji, you may also see herds of blue sheep grazing on the meadows. From Danji, we climb few hundred meters up to the top of the ridge, which offers excellent views of surrounding mountains. Walking for another 20 minutes, will reach at the junction of trails leading to Gangkar Phunsum and Tshochena. We take the trail to the right that leads to Jaze La pass. The Jazela pass, which is at 5200m, offers majestic views of surrounding mountains in all directions. From the pass, the trail descends through snow-capped peaks and lakes to Tshochena 5000m.
Day 22: Tshochena – Jichu Dramo
DISTANCE 14KMS | Time: 5-6hrs.| Ascent: 170m | Decent: 120m| Altitude: 5000m-5050m
We follow the shore of a blue-green lake and then climb to a ridge at 5150m, which offers panoramic views of snowy peaks in 360-degree. From here, the road and the microwave tower at Dochu La can also be viewed in far distance. The trail goes up and down over a small rounded hill. We then pass a glacial lake and reach Loju La pass (5170m), which is a yak pasture with many crisscrossing yak trails. We take a trail that crosses a small saddle-like hill at 5120m to a wide glacial valley. We descend further down to Jichudramo camp (5050m) – this is the highest campsite on our entire trek.
Day 23: Jichu Dramo – Chukarpo
DISTANCE 15KMS | Time: 5-6hrs.| Ascent: 950m |Altitude: 5050m-4400m
We will climb through a moraine path to the picturesque Rinchen Zoe pass (5350m), which divides Phochu and Mangdechu basins. The Gangkar Puensum (7520m), the highest mountain in Bhutan can be seen from this pass. Further, the demarcation between the forests and the barren high altitude areas are remarkably seen from here. Descending through a broad marshy valley with strings of lakes, steep face of moraine and yak pastures, we reach Tampe Chu, which is amidst rhododendron and Juniper forests. We camp at Thongsa Thang (4400m) some distance away from Chukarpo.
Day 24: Chukarpo – Tampetsho
DISTANCE 19KMS | Time: 7-8hrs.| Descent: 80m |Altitude: 4400m-4320m
We descend following the right bank of a river to a Galapang yak pasture at 4025m. We will then climb steeply through forests of junipers and silver firs until we reach Tampetsho. The trail to Tampetsho follows a stream to a beautiful clear turquoise-colored lake, which is set like in a bowl surrounded by steep ridges. We will camp at end of the lake at 4320m.
Day 25: Tampetsho – Maraothang
DISTANCE 16KMS | Time: 4-5hrs.| Ascent: 280m | Descent: 980 | Altitude: 4320m-3620m
Today, we will climb steeply to the Tampela Pass (4600m). The sight of blue sheep on the mountain slopes above trail is common here. We then descend to the Omtsho Lake. The legend has it that, in 15the century, the famous saint Terton Pema Lingpa miraculously discovered a treasure from this lake. The trail goes toward the shore of the lake and reaches it's outlet marked by the prayers and then descends steeply pass a waterfall to a small lake. The trail finally meets the left bank of Nika Chu River. After sometime, we reach to a large open area close to the confluence a major tributary flowing from east. We will then cross a wooden bridge and walk along mixed forests to reach Maraothang (3620m), which is a wide open area with yak herder's camp and your last night camp.
Day 26: Maraothang – Nika Chhu Zam (Trek ends)
DISTANCE 20KMS | Time: 6-7hrs.| Descent: 970m |Altitude: 3620m-2650m
The last day of the trek goes gradually downhill through mixed deciduous and bamboo forests. We further descend through forests and pastures connecting to large grassy area overlooking the motor road and Sephu Village (2650m). Your car will be waiting here to transfer you to Punakha. Overnight hotel in Punakha.
Day 27: Punakha – Thimphu.
In the morning, you will visit  Punakha Dzong, the most beautiful Dzong in Bhutan which is stunningly situated inbetween the male and female rivers like an anchored ship and visit  Chimi Lhakhang, which is a fertility temple dedicated to the Devine Madman or Lama Drukpa Kuenley. You will then drive to Thimphu via Dochula pass. Evening, you can stroll in Thimphu city. Overnight hotel in Thimphu.
Day 28: Thimphu – Paro Depart
In the morning, you will drive to the airport for departure. Our representative will bid you farewell.
At a Glance
Tour duration: 28 Days | 27 Nights
Difficulty level:  Hard
Total distance: 370 km
Best season: March, April, May, September, October and November
Maximum elevation: 5350m
Minimum elevation: 5050m
Highest camp elevation: 3620m
Highest ascent of the trek: 950m
Inclusions
All meals
Tea, coffee and snacks
Complementary bottled water in car
Hotels
Transport
Guide
Government levy
Visa fee
Permits
Sightseeing
On trek includes:
Sleeping tents
Dining tents
Toilet and shower tents
Toilet seats
Mats
Duffle bags
Cooking utensils
All meals
Guide
Trek chef assistants
Horses
Exclusions
Flight tickets
Insurance
Tips
Beverages other than tea and coffee
Sleeping bag on trek
Laundry
Internet bill
Phone bill
Other bills of personal nature
Accommodation
Accommodation in 3 star hotels (upgrade with supplement) during city tour.
Tented campsite accommodation on trek.
Insurance
Package does not include insurance of any kinds, and that you are required to obtain separate coverage from your home country before your trip begins.