Jomolhari Trek - 11 Days | 10 Nights
From
US$

3880 / Per Person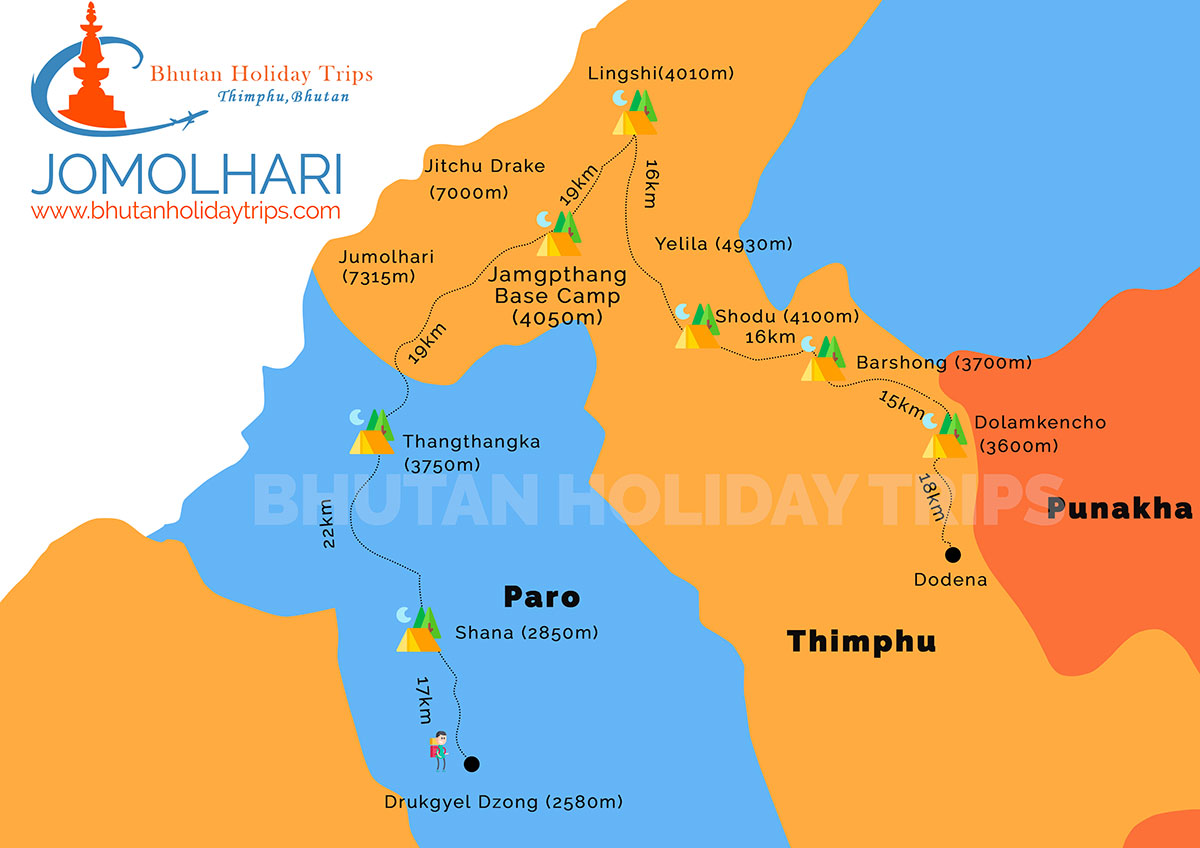 Highlights
The trek starts from Drugyl Dzong in Paro and ends at Dodena in Thimphu.
Spend time in the remote mountain village of Lingshi.
Cross two high Mountain passes: Neylela Pass at 4890m and Yelela Pass at 4930m.
Trek through rich forests and vegetation, yak herders, grazing land, Himalayan marmots and blue sheep.
Mountain views on trek, Mount Jumolhari at 7314m, Jichu Drake at 6989m and Tsherimgang at 6789m.
Jomolhari trek is one of the most popular trekking routes in Bhutan. This trek will take you to the stunning view of Mt.Jomolhari at 7315m from the base camp. Jomolhari is the second highest unclimbed peak in the world. The trail takes through high pasture land which are used by yak herders for grazing animals. En route you will have spectacular views of Mount Jichu Drakey at 6989m and Tshrim Gang at 6789m.
Detailed Itinerary
Day 1 : Paro
During the journey, one will experience breath-taking view of Mount Everest, Kanchenjunga and other famous Himalayan peaks including the sacred Jumolhari and Mount Jichu Drake in Bhutan. On arrival at Paro International Airport, you will be received by your guide and transfer you to the Hotel.  Later in the afternoon You will visit Paro Dzong. It was built in 17th century and now houses government offices and religious institutions. Then you will visit Kichu Lhakhang, the oldest temple in the country built by the Tibetan King Songtsen Gampo in 8th century. In the evening you can stroll in the paro town. Overnight hotel in Paro.
Day 2: Acclimatization Hike to Tiger's Nest Monastery
In the morning you will hike to Taktsang (Tiger's Nest) Monastery, which is Bhutan's most famous monastery situated at 3180 meters. Guru Rinpoche (spiritual master) is said to have flown on the back of a tigress from Singye Dzong in Lhuntse to meditate in a cave where Taktsang Monastery now stands. The Moanstery is perched on the edge of a steep cliff, about 900 meters above Paro Valley. Lunch will be served at the Cafeteria. Explore the monastery and hike back to the valley in the afternoon. Overnight hotel in Paro.
 Day 3: Drukgyal Dzong –  Shana (Trek starts)
DISTANCE 17KMS | Time: 5-6hrs.| Ascent: 500m | Decent: 0m| Altitude: 2580m-2850m
At the end of the road from Paro lies the Drugyel Dzong with Mt. Jhomolhari (23,995ft/7315m) behind – a beautiful point to start this trek. You will meet our trekking staffs and pack of animals here. You will walk along a dirt road for 1 hr through a richly cultivated valley called "TSENTO". Tsento is the first small settlement you will encounter. You will see big, magnificent, traditional Bhutanese farmhouses with red chillies dried on their roofs in the season, small shops and a Basic Health Unit which cares for the people who live far away from Hospital. You will cross a Swiss – built suspension bridge at the end of the road.
The trek continues on the east side of the river. After 2 – 2.5hrs, you will stop for lunch near a Chorten (Stupa) at 8,450ft/2,577m. After lunch you will cross the main bridge and continue on a pleasant trail leading towards the Hamlet of Chobiso where you will enter Jigme Dorji National Park. At Gunitsawa, the camp has big school and some shops, and your trekking permits will be checked at the entrance. You will continue walking through the camp and cross the bridge over Paro Chhu. After 20 minutes of climb and descend through the forest, you will reach Shana camp site (9480ft/2890m) by evening.
Day 4: Shana- Soi Thangthanka
DISTANCE 22KMS | Time: 7-8hrs.| Ascent: 900m | Decent: 0m| Altitude: 2850m-3750m
With a lot of distance to cover, it is going to be a hard day. After lunch the trail will be rough and stony with many ascending and descending. You can count on a late arrival at camp. You will be following the river upstream on its right side on a muddy trail. After crossing the bridge, the trail climbs steadily through a beautiful thick forest of oak, rhododendron, bamboo and ferns. After 2 – 2.5hrs of trekking you will reach Shing Karap (10,170ft/3,100m). A clearing with two houses, Home-brewed beer is sold, and the house is plastered with empty bottles. Not far from here, the trail forks, you will turn right and trek towards Soe. After a short steep climb, you will cross a bridge and after five minutes, you will come across a big clearing in the forest,Thongo Samba, a possible lunch spot or campsite.
The trek to Soi Thangthanka continues for 3 – 4hrs through beautiful forest of birch, fir, larchmaple, blue pine and rhododendron. After trekking for three hrs, you will be crossing a bridge, Yaks may be encountered from here, and make sure you move onto upper side of the trek, not the lower, as they pass. A short climb follows and a second bridge appears ahead, at the confluence of two rivers. After crossing the bridge, you might see Jhomolhari on the way to a big valley called Soi Yakse. You will continue trekking for 20 – 30 minutes on a good trail to reach Soi Thangthanka.
Day 5: Soi Thangthanka –  Jangothang(Jomolhari Base camp)
DISTANCE 19KMS | Time: 4-6hrs.| Ascent: 300m | Decent: 0m| Altitude: 3750m-4050m
After enjoying the view to Jomolhari and a good breakfast, you will be walking for 1 hr through forest. Today's trail again follows the river and changes direction several times. Late in spring, you may spot Blue Poppy (Bhutan's national flower). At Heansho Thangkha (12,235ft/ 3,730m), you will come across Bhutanese and Indian army camp which has a Helipad, and guards another pass into Tibet. About 1 hr beyond the camp, you will come across a beautiful campsite Geza, where the yaks are kept here in winter. Today you will come across small villages. You might be invited into one of the houses for a cup of the famous butter tea, and it is impolite to refuse. You will have lunch somewhere in one of the villages.
By now you will be able to see the summit of the spiky peak Jitchu Drakey (22,470ft/6,850m) and Tsheri Kang to the right (21,405ft/6,526m). When you see a ruin of a Dzong, located on the rock, decorated with Prayer flags, you are inching closer. After crossing a bridge and suddenly the overwhelming snow- and ice- covered east face of Jhomolhari (23,995ft/ 7,315m) appears with its massive 3200m-high wall of granite, marble, and quartzite. You have reached Jhomolhari camp. Jhomolhari camp is where mules and horses are changed for Yaks.
Day 6: Jangothang(Jomolhari Base camp) Rest Day
DISTANCE 17KMS | Time: 4-6hrs.| Ascent: 469m | Decent: 0m| Altitude: 3750m-4050m
Most people will feel the effect of ascending 1800m in three days, so a rest day at Jhomolhari camp will help with acclimatization. There are some good day hikes from Jhomolhari camp, and it is important to hike today so that you will acclimatise. Follow the standard rule: trek high, sleep low.
Side trips for the day
An easy day hike up the valley towards the foot of Jhomolhari. You can take the trail that climbs the moraine and this walk gives a good view down to the glacier. Watch out for herd of Himalayan Blue sheep in this valley.
A beautiful hike that goes eastward up to the twin lakes Tso Phu (14,270ft/ 4,350m), which are full of Trout. From the lake there is a spectacular view back to Jhomolhari and Jitchu Drakey.
The most challenging day hike is up the steep, grassy ridge located next to camp to the north. It takes 3 – 4 hrs to reach the final rocky summit (15,974ft/ 4,870m). You can get the views of Jitchu Drakey and Jhomolhari peaks. You can get your windproof jacket, gloves and hat.
A very pleasant hike (2 – 2.5hrs up, 1 – 1.5hrs down) goes in the direction of Jitchu Drakey. Walk northeast from the camp, following the same trailnused to cross Nyile La to Lingshi. After crossing the last house, cross the bridge and turn left and follow a less steep trail into the valley that leads to the foot of Jitchu Drakey. A little bit higher up there is a big, flat meadow that used to have a memorial plaque for two Italians who were killed in Jitchu Drakey in 1984. This hike gives you a very good view of Jitchu Drakey, Jhomolhari and the glaciers.
Another viewing point is the steep, grassy hill (16,334ft/ 4,980m) that starts from the second bridge. It is about 3 hrs hike and you get a superb view back to Jhomolhari/ Jitchu Drakey groups and camp.
Try to climb up the rock on which the ruined Dzong is situated. Be prepared to climb grade V Difficult and higher.
Day 7: Jangothang – Lingshi
DISTANCE 19KMS | Time: 6-7hrs.| Ascent: 780m | Decent: 820m| Altitude: 4050m-4010m
Walk north to the houses of Jangothang. After crossing the last house, you will come across a log bridge crossing the river. It is a long climb – 3 – 3.5hr- to reach the first high and very windy pass of this trek the Nyile La (16,040ft/ 4,890m). Today's trek will test your level of acclimatisation. If you are having problems this is the time to turn back. From Nyile La you can gate a view of Tsheri Kang (21,405ft/ 6,526m) dominates towards the north and The Tiger Mountain (6,840m) towards the east. From the pass, descend a short, less than 30min down to a flat, and more sheltered area where you will have lunch.
You can continue your trek and passing a narrow George with a small river crossing, you can spot Masang Gang peak in the far distance. From here the trail will be easy, flat and good, leading to a viewing point from which Lingshi Dzong can be seen, a solitary structure in the middle of an enormous wilderness. The camp is located near a ruined tourist bungalow. For rest of the day, you can explore Lingshi village if you wish to.
Day 8: Lingshi – Shodu
DISTANCE 22KMS | Time: 8-9hrs.| Ascent: 940m | Decent: 920m| Altitude: 4010-4100m
Your trek today must begin early. Above the camp you will turn south towards the Mo Chhu valley and then remain on the west side. Three hours from the camp you will cross Mo Chhu and then climb steeply to the top at Yeli La (4930m) where you can get a stunning view of Jumolhari, Gangchen Ta, Tshering Gang and Masang Gang if the weather is in your favor. Then you will descend to your camping place at Shodu at 4080 m.
 Day 9: Shodu – Barshong-Domshisa
DISTANCE 23KMS | Time: 8-9hrs.| Ascent: 0m | Decent: 700m| Altitude: 4100-3400m
Today  you will come back to tree line. The Path follows the Thimphu river, descending through rhododendron, juniper and other alpine forests. you will be able to see stunning views of rocky cliffs and waterfalls. you can rest by the riverside and enjoy a hot pack lunch. After lunch, you will gdadually ascend to the ruins of Barshong Dzong. Continue to your campsite near a river, Domshisa, which is at 3400m. Overnight stay at campsite.
Day 10: Domshisa – Thimphu( Trek ends) 
DISTANCE 17KMS | Time: 5-6hrs.| Ascent: 0m | Decent: 1080m| Altitude: 3400-2320m
The trail descends gently through a dense forest of rhododendron, birch, and conifers and then ascends till you meet the dirt road. Walk along the dirt road for a while, and then you will be picked up. You might spot the Langur monkeys on the trees afar. Dodena is the exit point of Jigme Dorji National Park, and it opens up to the main road that drives to Thimphu. Thimphu is the capital of Bhutan and one of the modern cities there. After some refreshment and a shower, you can stroll around the town of Thimphu. As a memory of your remarkable travel to Bhutan, you can go to the street and buy some souvenirs to take back home for yourself and your loved ones. Overnight stay at hotel.
Day 11: Thimphu – Paro
After your breakfast, you will be driven to the airport for departure. Our representative will bid you goodbye.
At a Glance
Tour duration: 11 Days | 10 Nights
Difficulty level: Moderate to Hard
Total distance: 138 km
Best season: March, April, May ,June, September, October and November
Maximum elevation: 4930m
Minimum elevation: 2400m
Highest camp elevation: 4100m
Highest ascent of the trek: 940m
Inclusions
All meals
Tea, coffee and snacks
Complementary bottled water in car
Hotels
Transport
Guide
Government levy
Visa fee
Entrance fees
Permits
Sightseeing
On trek includes:
Sleeping tents
Dining tents
Toilet and shower tents
Toilet seats
Mats
Duffle bags
Cooking utensils
All meals
Guide
Trek chef assistants
Horses
Exclusions
Flight tickets
Insurance
Tips
Beverages other than tea and coffee
Sleeping bag on trek
Laundry
Internet bill
Phone bill
Other bills of personal nature
Accommodation
Accommodation in 3 star hotels (upgrade with supplement) during city tour.
Tented campsite accommodation on trek.
Insurance
Package does not include insurance of any kinds, and that you are required to obtain separate coverage from your home country before your trip begins.