Tour of the Dragon bike race - 9 days | 8 Nights
From
US$

2920 / Per Person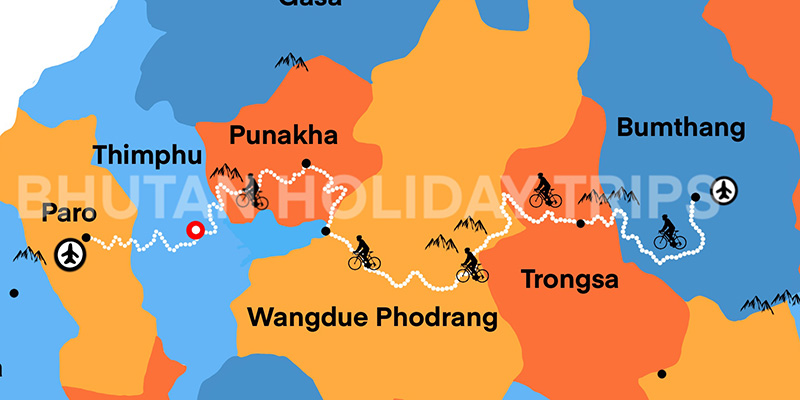 Highlights
Participate in Tour of the Dragon bike race, world's toughest one-day mountain bike race covering 268km across four mountain passes ranging from 1,200 to 3,400 metres above sea level.
Explore the key cultural sites of western and central Bhutan.
Discover some of the most sacred monasteries, medieval fortresses and temples.
Visit to Switzerland of Bhutan.
Visit local farm house and taste Bhutanese cuisine.
Hike to Tiger's Nest
Amongst many sporting events and initiatives thus so far organized in Bhutan, the Tour of the Dragon has the distinction of holding the first of its kind Ultra Marathon Bike Race (covering a distance of over 200+ kilometres). Cyclists from around the world travel to Bhutan to participate in one of the toughest and most challenging ultra races in the world. Tour of the Dragon covers the distance of more than 200+km benching it was one of the ultra-cycling marathons in the world.
The race starts from Bumthang in central Bhutan. This region that spans from 2,600-3,400m is the religious heartland of the nation and home to some of its oldest Buddhist temples and monasteries
Detailed Itinerary
Day 1 (28 September, Monday): Arrive Paro – Thimphu
During the journey, one will experience breath-taking view of Mount Everest, Kanchenjunga and other famous Himalayan peaks including the sacred Jumolhari and Mount Jichu Drake in Bhutan. On arrival at Paro International Airport, you will be received by your guide and take you to Thimphu which is 54 km from Paro Airport and about 45 minutes drive. Later in the afternoon  visit the King's Memorial Chorten (built in memory of the third King of Bhutan); Changgangkha Monastery; visit the mini zoo where you will see national animal of Bhutan Takin, and the majestic Tashichhodzong. Overnight hotel in Thimphu
Day 2 (29 September, Tuesday): Thimphu – Punakha
After breakfast this morning, enjoy the scenic drive to Punakha with a stop for tea at Dochu La (3,100 meters), where on a clear day you can get spectacular views of the Eastern Himalayas. From the pass, drive downhill through the forests of rhododendron, fir and hemlock. You will arrive Punakha  after traversing through rice field and along the bank of Punakha River.  You will stop at Metsina village and take a 20 minute walk through the rice fields to Chimi Lhakhang, which is a fertility temple. After Lunch you will visit the Punakha Dzong, which is stunningly situated in-between the male and female rivers like an anchored ship. Overnight hotel in Punakha
 Day 3 (30 September, Wednesday): Thimphu – Phobjikha
After breakfast you will be driving to Khamsum Yuelley Namgayl chorten. Khamsum Yulley Namgyal Chorten stands out on a beautiful ridge above the Punakha valley. It was built by Her Majesty the Queen Mother, Ashi Tshering Yangdon Wangchuck. It took 9 years to build and Holy Scriptures rather than engineering manuals were consulted to construct this 4-storey temple. It is a fine example of Bhutanese architecture and artistic traditions. This temple has been dedicated for the well being of the kingdom, its people and all sentient beings. From the parking it is another 45 minutes uphill walk through the rice fields and the return portion downhill takes around 30 minutes. Best view of the Punakha Valley is seen from the top of the temple.   After lunch you will drive to  Phobjekha  which is a famous for winter roosting place for Black necked crane.  After visiting the Monastery,  hike on Gangtey Natural Trail which is 1 hour 30minutes approximately. You will be hiking through pine forest and small bamboo plants. You can see the Phobjikha valley so beautiful from this hike. It is one of the best hikes for the nature lovers. You can walk through the villages in the valley to get insight into the rural lifestyle. Overnight hotel in Phobjikha.
Day 4 (31 September, Thursday): Phobjikha – Bumthang
After early breakfast you will drive to Bumthang. If you are lucky enough you might see Yaks on the way. Stop for lunch at Trongsa. After Lunch you will visit Trongsa Dzong.  After visiting trongsa dzong ypu will continue you're your drive Bumthang with short stop at Yotong La Pass (3400m). Aafter pass you will enter in to Bumthang region. Along the way you will stop at the Yathra (textile weaving) factory, where the Yathras are designed with unique Patterns that have been conserved long way back in Bumthang, and you can even watch some of the weavers at their looms. Overnight hotel in Bumthang.
Day 5 (01 September, Friday): Bumthang
Today you will attend pre-race briefing. After lunch you will visit  Kurjey Lakhang, where Guru Rinpochee left his body imprints inside cave. You will also visit Jambay lakhang, Tamshing lakhang, . Evening you can stroll freely in the town.  Overnight hotel in Bumthang.
Day 6 (02 September, Saturday): Tour of the Dragon
Tour of the Dragon bike race starts.
Day 7 (03 September, Sunday): Thimphu – Paro
After your breakfast you will visit weekend market in Thimphu, visit giant Buddha statue on a hill overlooking Thimphu, which is reputed to be the largest Buddha Shakymuni in the world. After weekend market you will proceed to Paro. You will visit Paro Dzong. It was built in 17th century and now houses government offices and religious institutions. Then you will visit Kichu Lhakhang, the oldest temple in the country built by the Tibetan King Songtsen Gampo in 8th century . Overnight hotel in Paro.
Day 8 (04 September, Monday): Tiger's Nest Monastery
In the morning you will hike to Taktsang (Tiger's Nest) Monastery, which is Bhutan's most famous monastery situated at 3180 meters. Guru Rinpoche (spiritual master) is said to have flown on the back of a tigress from Singye Dzong in Lhuntse to meditate in a cave where Taktsang Monastery now stands. The Moanstery is perched on the edge of a steep cliff, about 900 meters above Paro Valley. Lunch will be served at the Cafeteria. Explore the monastery and hike back to the valley in the afternoon. Evening you will farm house and experience traditional hot stone Bath.  Overnight hotel in Paro.
 Day 9 (05 September, Tuesday): Departure
Drive to the airport for departure. Our representative will bid you farewell.
At a Glance
Tour duration: 9 days | 8 Nights
Tour type: Bike race with cultural tour
Event date:  2 September 2023
Activity type: Cultural tour, Bike race, Historical sites, Village tour, Religious sites and Day hike
Places covered: Thimphu, Punakha, Trongsa, Bumthang, Phobjikha and Paro
Maximum elevation: 3400m
Inclusions
All meals
Tea, coffee and snacks
Complementary bottled water in car
Hotels
Transport
Guide
Government levy
Visa fee
Permits
Sightseeing
Exclusions
Flight tickets
Insurance
Tips
Beverages other than tea and coffee
Sleeping bag on trek
Laundry
Internet bill
Phone bill
Other bills of personal nature
Accommodation
Accommodation in 3 star hotels (upgrade with supplement)
Homestay accommodation certified by Tourism Council Bhutan
Camping (optional)
Insurance
Package does not include insurance of any kinds, and that you are required to obtain separate coverage from your home country before your trip begins.