Eastern Bhutan Tour - 12 Days | 11 Nights
From
US$

4000 / Per Person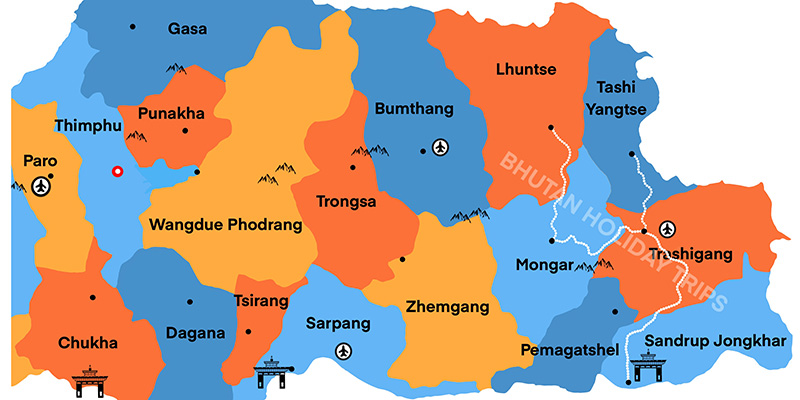 Highlights
Visit ancestral home of the Wangchuk Dynasty, the current royal family of Bhutan.
Explore the Sakteng village and experience the life and unique culture of the Broakpa, (semi-nomadic yak herder, from Merak and Sakteng).
Explore Khoma village in Lhuntse where you can watch women weaving expensive textile called Kishu Thara.
Discover some of the monasteries, medieval fortresses and temples.
Explore Trashiyangtse, which is well known for carving wooden bowls.
This remote, wild and rugged east of Bhutan is perhaps the most mysterious part of the kingdom. You will be rewarded with tradition of the minority which led their life in a semi-nomadic way, fascinating village little influenced by tourism, group-free dzong and temples, colorful outfits, silks and embroidery.
Detailed Itinerary
Day 1: Arrive in Guwahati to Samdrup Jongkhar (185 Km)
Our representative will receive you at the Guwahati Airport and escort you to Samdrup Jongkhar through tea gardens, transparent rivers interspersed with quiet villages and small townships of vibrant culture. In the evening, take a walk-through town.
Day 2: Samdrup Jongkhar to Trashigang (180 Km)
After breakfast, you will begin your journey to Trashigang, the major commercial hub of the eastern Bhutan. This is going to be a stunning journey passing through tropical to broadleaved forests, villages and vegetation zones. Make stops at Narphung, Wamrong, Khaling and Kanglung to interact with locals.
Day 3: Trashigang to Sakteng (58 Km)
Today you will travel with an outback vehicle (Bolero 4WD) to Sakteng. The road is mostly bumpy no tar farm road. The people (Brokpa tribe) living in Sakteng area are semi-nomadic yak herders with a unique and fascinating culture in the world. They speak a different dialect, have their own deities and wear a unique style of dress. They wear headgear made out of yak hair with five tentacles designed to draw away the rain.
Day 4: Sakteng
It's worth spending an extra day in Sakteng to explore the life and unique culture of the Brokpa people. You may visit schools and interact with the locals to learn more about their culture, social and religious structures of this unique community. You may also go on a hike and enjoy the beautiful view of the Sakteng valley.
Day 5: Sakteng to Radhi (84 Km)

After breakfast, drive back to Trashigang. Upon arrival in Trashigang, you will visit Trashigang Dzong. Later in the afternoon, you will drive one hour to Radhi villages, which are renowned for "Bura" gho and kira, a textile made from raw silk. Explore villages and interact with the locals.
Day 6: Radhi to Trashiyangtse (81 km)
This morning, you will drive to Trashiyangtse, which is well known for carving wooden bowls and you will see some craftsmen making them. On the way you will visit Gom Kora temple. It is said that Guru Rinpoche meditated here, and you can see the impression of his thumb, his hat, and his body on the rock near the temple. You will also visit the Chorten Kora, a white Nepalese style stupa built in 1740 which is one of the main attractions of eastern Bhutan. if time permits, you may visit Bomdeling Wildlife Sanctuary Visitor Centre, which has a small wildlife museum. This Wildlife Sanctuary is important as it is the winter roosting place of the endangered Black-necked crane and is also a home to many other species of animal and bird.
Day 7: Trashiyangtse to Mongar (154 Km)
Today you will drive to Mongar. On the way you will take a side trip off the main road and upon the top of the ridge to visit Drametse Monastery. The monastery was built in 1511 and is one of the important monasteries in eastern Bhutan. This is the place where Drametse Nga Cham (Drum Dance) originated and the features this dance are performed during festivals all over the country. You will enjoy your hot picnic lunch in the monastery. After lunch, if you wish, you can hike back to the main road. The hike takes about one and half hour. As you hike, you will pass by small villages and hamlets. Your car will be waiting at the bottom of the main road to transfer you back to Mongar. Evening stroll through the town.
Day 8: Mongar to Lhuntse (75 Km)
After breakfast you drive to Lhuntse, formally known as Kurtoe, the region is ancestral home of Bhutan royal family. On the way you will visit a huge Guru Rinpoche statue with 173 ft tall and it is known as one of the world's tallest Guru Rinpoche statue. This was built to bring peace and prosperity to the world and to all sentient beings. The view from the ridge top are magnificent. The landscape is spectacular with stark cliff, gorges and dense coniferous forest. Explore Khoma village to see the local women weaving tapestry of textiles with their nimble hands. This village is famous for its intricate and colorful weavings.
Day 9: Lhuntse (Excursion to Dungkar village)
Today after early breakfast, you will drive about 40 km towards north of Lhuntse to visit the historic village of Dungkhar. You will visit the impressive 16th century palace (the "Jigme Namgyel Naktshang") which is the ancestral home of the Wangchuk Dynasty, the current royal family of Bhutan. Explore the Dungkar village and drive back to Lhuntse in the afternoon.
Day 10: Lhuntse to Trashigang (166 Km)
After breakfast, you will drive back to Trashigang via Mongar and it is going to be a long drive.
Day 11: Trashigang to Samdrup Jongkhar (180 Km)
You will drive back to Samdrup Jongkhar for depart back to your home after exploring the whole eastern Bhutan.
Day 12: Samdrup Jongkhar to Guwahati (185 Km)
Drive to Guwahati Airport for the departure. Our representative will bid you farewell.
At a Glance
Tour duration: 12 Days | 11 Nights
Tour type: Cultural tour and day hike

Festival:
February departure may attend the Chorten kora festival
March departure may attend the Gom Kora Festival
June departure may  attend the Sakteng Naked dance festival
November departure may attend the Trashigang and Mongar festivals
December departure may attend  the Lhuntse and Samdrup Jongkhar festivals

Best time: All seasons
Activity type: Cultural sightseeing, Home stay, Village tour, Historical site, Religious sites and Day hikes
Places covered: Samdrup Jongkhar, Trashigang, Trashiyangtse, Mongar, Sakteng, Lhuntse and Dungkar
Maximum elevation:  2960m
Inclusions
Sustainable Development Fee(SDF)
Accommodation
All meals
Transport
Government certified Bhutanese Licensed tour Guide
Bhutan Visa fee
All internal taxes & charges
Exclusions
Flight tickets
Travel Insurance
Tips
Drinks and Beverages other than tea and coffee
Sleeping bag on trek
Internet bill and Phone bill
Other bills of personal nature
Accommodation
Accommodation in 3 star hotels (upgrade with supplement)
Homestay accommodation certified by Tourism Council Bhutan
Insurance
Package does not include insurance of any kind, and that you are required to obtain separate coverage from your home country before your trip begins.