Laya Gasa Trek - 17 Days | 16 Nights
From
US$

6152 / Per Person
Group Size:

2 persons and above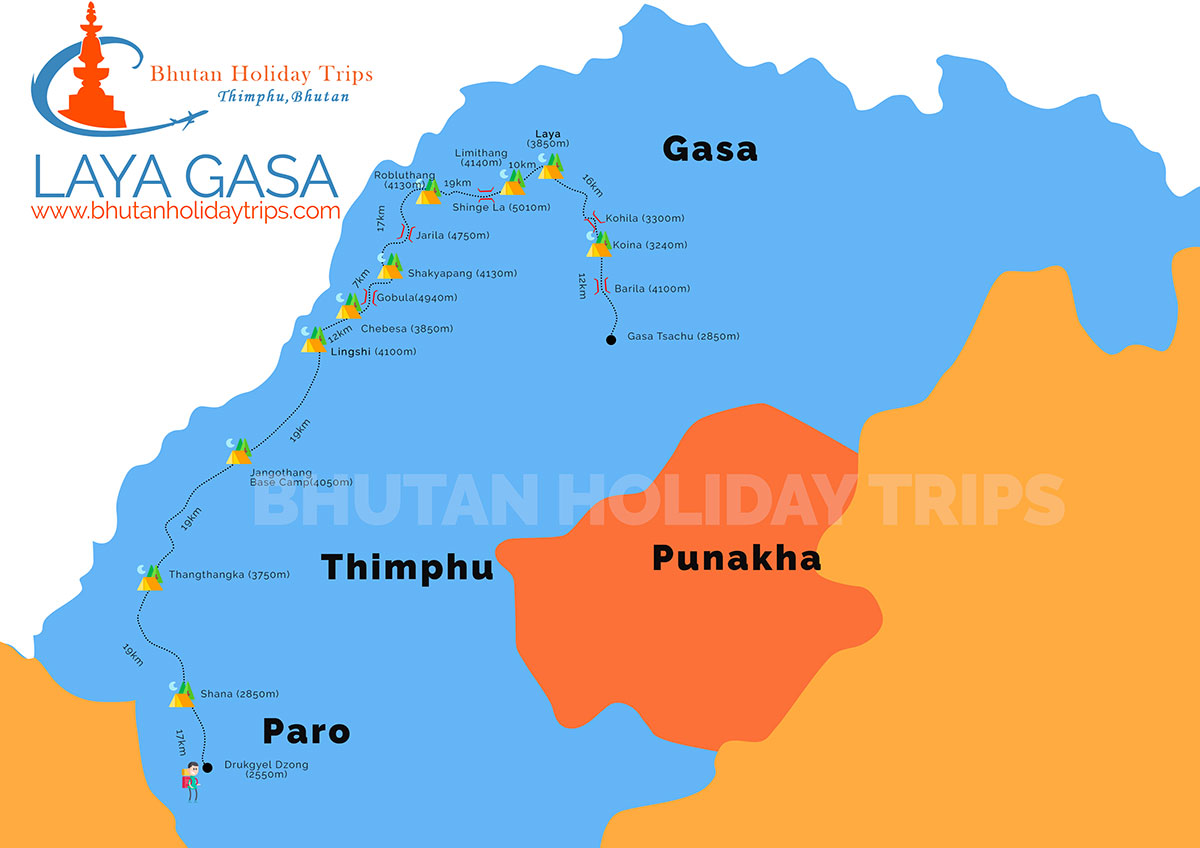 Highlights
Breathtaking landscapes of the Himalayas

The distinctive, isolated cultures of the nomadic mountain people of Laya and Lingshi, including an immersive homestay in the picturesque village of Laya.
Camping at the lap of some of Bhutan's highest and most beautiful peaks, Jomolhari, Jichu Drakey, and Tsherimgang.
The Laya-Gasa Trek is a gem among Bhutan's diverse trekking routes, offering breathtaking views of highland Yak pastures, ancient fortresses inhabited by monks, the unique culture and way of life in Laya village, and panoramic vistas of snow-capped mountains, valleys, and the treasures of the alpine Himalayas. You'll have the opportunity to luxuriate in stunning camping sites with our team of experienced trekking guides, horsemen, and cooks for an unforgettable adventure into the heartland of the Himalayas. Experience endless skies and more stars than you've ever seen on this spectacular journey.
Detailed Itinerary
Day 1 : Paro
Welcome to Bhutan! Your exciting journey starts with breathtaking Paro.
Your flight to Bhutan offers magnificent views of the majestic Mount Everest, Kanchenjunga, the sacred Jumolhari, Mount Jichu Drake, and other grand Himalayan peaks.
Upon arrival at Paro International Airport, your friendly guide will warmly receive you and escort you to your hotel. In the afternoon, you will explore the historic Paro Dzong, which was built in the 17th century and now serves as a home to government offices and religious institutions. Next up, you'll visit Kichu Lhakhang, the oldest temple in Bhutan, dating back to the 8th century and built by the Tibetan King Songtsen Gampo.
In the evening, take a relaxing stroll in the charming Paro town, soaking in the vibrant culture and stunning scenery. Rest and rejuvenate at your comfortable hotel in Paro, preparing for the next day's adventures.
Day 2: Acclimatisation Hike to Tiger's Nest Monastery
In the morning, you'll have the chance to explore Bhutan's most famous monastery – Taktsang (Tiger's Nest) – situated at a remarkable altitude of 3180 metres. Legend has it that Guru Rinpoche, a spiritual master, flew on the back of a tigress from Singye Dzong in Lhuntse to meditate in a cave where Taktsang Monastery now stands.
The monastery is perched on the edge of a steep cliff, offering spectacular views of Paro Valley, which lies about 900 metres below. Lunch will be served at the Cafeteria, providing an opportunity to take in the stunning scenery while enjoying a delicious meal.
After lunch, you'll have the chance to explore this historic and spiritual site, before hiking back down to the valley in the afternoon. As the day draws to a close, you'll retreat to your hotel in Paro, with memories of a truly unforgettable experience etched into your mind forever.
Day 3: Drukgyal Dzong- Shana (Start of Trek)
DISTANCE 15KMS | Time: 5-6 hrs.| Ascent: 500m | Altitude: 2580m-2890m
Prepare to be captivated by the unspoiled beauty of Bhutan as you trek along a dirt road through a lush valley, following the Paro Chhu river. Admire the stunning scenery of majestic, forest-covered mountains and traditional houses covered with vibrant red chillies left to dry on the roofs. At Gunitsawa checkpoint, your trekking permits will be checked and endorsed before you make your way to the lovely Shana campsite, just half an hour away.
Day 4: Shana-Soi Thangthanka
DISTANCE 22KMS | Time: 7-8 hrs.| Ascent: 900m | Decent: 0m| Altitude: 2890m-3750m
Get ready for a challenging yet immensely rewarding day, as you trek through a stunning landscape filled with natural wonders that will leave you awestruck. As you journey through the region, you'll come across the first bridge en route from Tibet to Bhutan, which was once used by travellers on this historic route.
The trail will take you on a steady climb through a thick forest, brimming with a diverse array of flora including Oak, Rhododendron, Bamboo, Fern, Birch, Fir, Larch, Maple, and Blue Pine. You'll encounter many small rises and drops along the way, with breathtaking views of the snow-capped Jhomolhari visible on the northern horizon.
After a hard day's trek, you'll finally arrive at the Soi Thangthanka camp, located in a sprawling meadow.
Day 5: Soi Thangthanka- Jangothang(Jomolhari Base camp)
DISTANCE 19KMS | Time: 4-6hrs.| Ascent: 300m | Decent: 0m| Altitude: 3750m-4050m
As you make your way through the forest, the majestic Jhomolhari slowly recedes behind you. Keep your eyes peeled for the elusive Blue Poppy, Bhutan's national flower, which lucky visitors sometimes spot in late spring.
The trail takes you through six villages, and a chance to interact with the people, famous for their hospitality. Guests often find themselves invited into a home for some hearty butter tea.
After crossing the settlements, the summits of peak Jitchu Drakey, Tshering Kang, and Jhomolhari will come into view. As you cross the bridge, prepare to be dazzled by the irresistible snow-and-ice-covered east face of Jhomolhari. The massive 3200m-high wall of granite, marble, and quartzite looms over the Jomolhari Camp, as you spent the night at the lap of the mountain of the goddess Jomo.
Day 6: Explore of Jangothang(Jomolhari Base camp)
Time for a well-deserved rest day at Jomolhari camp, which will help you acclimatise to the altitude after ascending 1800m in just three days. Take advantage of some great day hikes from the camp, but remember to follow the golden rule for trekking: trek high, sleep low.
Day 7: Jangothang-Lingshi
DISTANCE 19 KMS | Time: 6-7 hrs.| Ascent: 780m | Decent: 820m| Altitude: 4050m-4010m
Prepare for a long climb to the Nyile La pass (4890m), the first high and windy pass of the trek, where you'll be rewarded with stunning views of snow-covered mountains. Descend from the pass and catch a glimpse of the awe-inspiring Lingshi Dzong, a solitary edifice in a landscape of folding mountains, straight out of an adventure story. You will then make your way to the Lingshi camp, located 900m below. From here, you can explore the charming Lingshi village and visit the Dzong.
Day 8: Lingshi-Chebisa
DISTANCE 12KMS | Time: 5-6 hrs.| Ascent: | Decent: 160m| Altitude: 4010m-3850m
This part of the trek is a gem even in this glorious trekking route. You are surrounded by the soothing fragrance of medicinal plants that cover the hillsides. The trail leads you through a small pass and a charming village. Take a moment to explore the renovated Dzong, a stunning fortress-like structure that's a testament to the community's dedication to preserving their cultural heritage. Afterward, continue walking until you reach Chebisa campsite, with a trail at the end of the valley that leads into Tibet. Keep an eye out for the extraordinary "Delphinium brunonianum" or "Royal" medicinal plant, a delicate-looking flower that blooms in the summer and has a delightful musky aroma.
Day 9: Chebisa-Shakyapang
DISTANCE 17KMS | Time: 6-7 hrs| Ascent: 570m | Decent: 290m| Altitude: 3850m-4130m
The trail leading to the peak Inela offers a challenging but rewarding climb, with stunning views of the surrounding valley. Along the way, keep an eye out for Himalayan Blue sheep and the majestic bearded vulture. The trail levels out at Gombu La pass (4940m) before descending through a beautiful Rhododendron forest. As you near the end of the hike, the trail winds through rock cliffs with salt minerals, and descends through the lush forest to Shakyapasang campsite. The valley is truly breathtaking and one of the highlights of the trek.
Day 10: Shakyapang-Robluthang
DISTANCE 17KMS | Time: 7-8hrs.| Ascent: 570m | Decent: 290m| Altitude: 3850m-4130m
Starting with a gentle climb, the trail soon levels out and takes you through an area where Himalayan Blue sheep and snow leopard footprints have been spotted. As you reach Jare la (4785m), you'll find small cairns and prayer flags marking the border between Lingshi and Laya for grazing Yaks. The view from here is breathtaking, with snow-capped Himalayan mountains in sight. The descent from Jare la is steep and weaves through Rhododendron bushes, Spruce, Larch, Silver Fir, Oak and various Pines, leading down to the valley. Cross several rivers and valleys before arriving at the Robluthang campsite.
Day 11: Robluthang-Limithang
DISTANCE 19 KMS | Time: 7-8 hrs.| Ascent: 850m | Decent: 870m| Altitude: 4100m-4140m
The trail meanders through a glacial valley and yak pastures, crossing several streams and eventually reaching the Sinche la pass (5000m). The trail is a bit zigzagged and grassy, so take care while hiking. Along the way, you may spot Blue sheep and see hillsides covered with the medicinal plant "Rheum nobile". The route offers breathtaking views of five gorgeous peaks of the Bhutanese Himalayas, ranging from 4617m to 7194m in height. Descend through some huts and beautiful Cedar forest until reaching the sandy area next to a moraine. Crossing a bridge and walking for another 20 minutes, you'll arrive at the Limithang campsite.
Day 12: Limithang- Laya
DISTANCE 10KMS | Time: 4hrs.| Ascent: few small climb | Descent: 360m| Altitude: 4140m-3850m
As you make your way through the verdant Cedar and Fir forest, you'll be rewarded with a breathtaking view of the majestic mountain named after the mythical Snow Lion. After a few gentle ups and downs, you'll come across a charming Chorten and the prosperous Laya village, nestled in the heart of the Jigme Dorji National Park. The geog boasts of six quaint villages, each with its unique character and culture, providing a delightful insight into the lives of the friendly locals. And as you soak up the panoramic views of the Tsenda Gang Peak to the northeast, you'll feel a sense of tranquillity that only the mountains can offer.
Day 13: Explore Laya
Discover the charm of Laya village by taking a leisurely walk and immersing yourself in the local culture. You'll be welcomed with open arms by the friendly hosts who will happily show you around their homes and share their traditions with you (just keep an eye out for the village dogs!). Don't miss the chance to visit the local school and temples, where you can learn about the unique beliefs and customs of this remote community. And for those seeking a bit of adventure, why not try yak riding? With over 20 yaks to choose from, you can experience the thrill of riding through the beautiful landscape of Laya. And if you're up for a hike, there are plenty of stunning trails to explore in this breathtaking region.
Day 14: Laya-Koina-Gasa( Trek ends)
DISTANCE 19 KMS | Time: 6-7 hrs.| Ascent: 0m | Decent: 950m| Altitude: 3800m-2850m
An enchanting trek through lush pastures and charming villages ,surrounded by stunning woodland and breathtaking mountain views. The trail leading down to Gasa is wide, flat, and in very good condition throughout the year. Following the path along the Mo Chhu river, you pass two massive caves on the way, and after a final climb with views of Koina Chhu and the Koina campsite, you will be met by your vehicles to be driven to Gasa. After your trek, relax and rejuvenate your body at the Gasa Hot Springs, which are renowned for their healing properties. Immerse yourself in the warm and soothing waters, surrounded by fir, spruce and rhododendron forests, and let your cares float away.
Day 15: Gasa-Punakha
After a hearty breakfast, get ready for a scenic drive through the lush, heavily forested areas of Bhutan. Along the way, you'll be treated to an abundance of wild orchids and other flora and fauna.
As you follow the winding Mo Chhu river, you'll pass through dense forests that are teeming with life. Keep an eye out for rare and exotic wildlife that call this area home. Drive through The charming village of Tashithang, to get to Punakha valley. Here, you may visit the famous Chimi Lhakhang, also known as the fertility temple, dedicated to Lama Drukpa Kinley, known for his unique brand of 'crazy wisdom'. Blessings for fertility are imparted here with a gentle tap on the head with a wooden phallus, and the many children born subsequently are often named "Chimi".
After lunch, you'll have the opportunity to explore the Punakha Dzong, a stunning architectural masterpiece that is situated between the male and female rivers, like an anchored ship. This impressive fortress has a rich history and is one of the most important and most beautiful structures in Bhutan.
After a long day of exploration, relax and unwind in the comfort of your hotel in Punakha.
Day 16: Punakha – Thimphu
Thimphu is a vibrant capital, and we want to show you all its treasures! After breakfast and a drive through lush forests, you stop at Dochula, to view its 108 stupas, for tea. You may visit the Dochula Lhakhang, built to commemorate the Monarchy, and on a clear day, enjoy the spectacular view of the Himalayas. In Thimphu, you can visit the lovely Memorial Chorten in the heart of the city, visit the giant Buddha statue, the postal Museum which offers personalised stamps, the Traditional Paper Factory, and the majestic Tashichhodzong. Spend the night in the cosiest capital in the world.
Day 17: Thimphu-Paro-Departure
After breakfast, you will be driven to the Paro Airport, where your guide will bid you goodbye. But your Bhutan experience is not over yet! Be sure to enjoy the Paro Airport at a more leisurely pace- the unique airport is also an Art Gallery, with displays and artworks by Bhutan artists, some available for sale. The airport shops are also unique- Think less fast food and perfume shops and more artisanal products, gorgeous textiles, and crafts.
At a Glance
Tour duration: 17 Days | 16 Nights
Difficulty level: Moderate to Hard
Total distance: 178 km
Best season: March, April, May, September, October and November
Maximum elevation: 5005m
Minimum elevation: 2400m
Highest camp elevation: 4230m
Highest ascent of the trek: 1200m
Inclusions
All meals
Tea, coffee and snacks
Complementary bottled water in car
Hotels
Transport
Guide
Government levy
Visa fee
Entrance fees
Permits
Sightseeing
On trek includes:
Sleeping tents
Dining tents
Toilet and shower tents
Toilet seats
Mats
Duffle bags
Cooking utensils
All meals
Guide
Trek chef assistants
Horses
Exclusions
Flight tickets
Insurance
Tips
Beverages other than tea and coffee
Sleeping bag on trek
Laundry
Internet bill
Phone bill
Other bills of personal nature
Accommodation
Accommodation in 3 star hotels (upgrade with supplement) during city tour.
Tented campsite accommodation on trek.
Insurance
Package does not include insurance of any kinds, and that you are required to obtain separate coverage from your home country before your trip begins.