Jumolhari Mountain Festival Tour - 12 Days | 11 Nights
From
US$

4264 / Per Person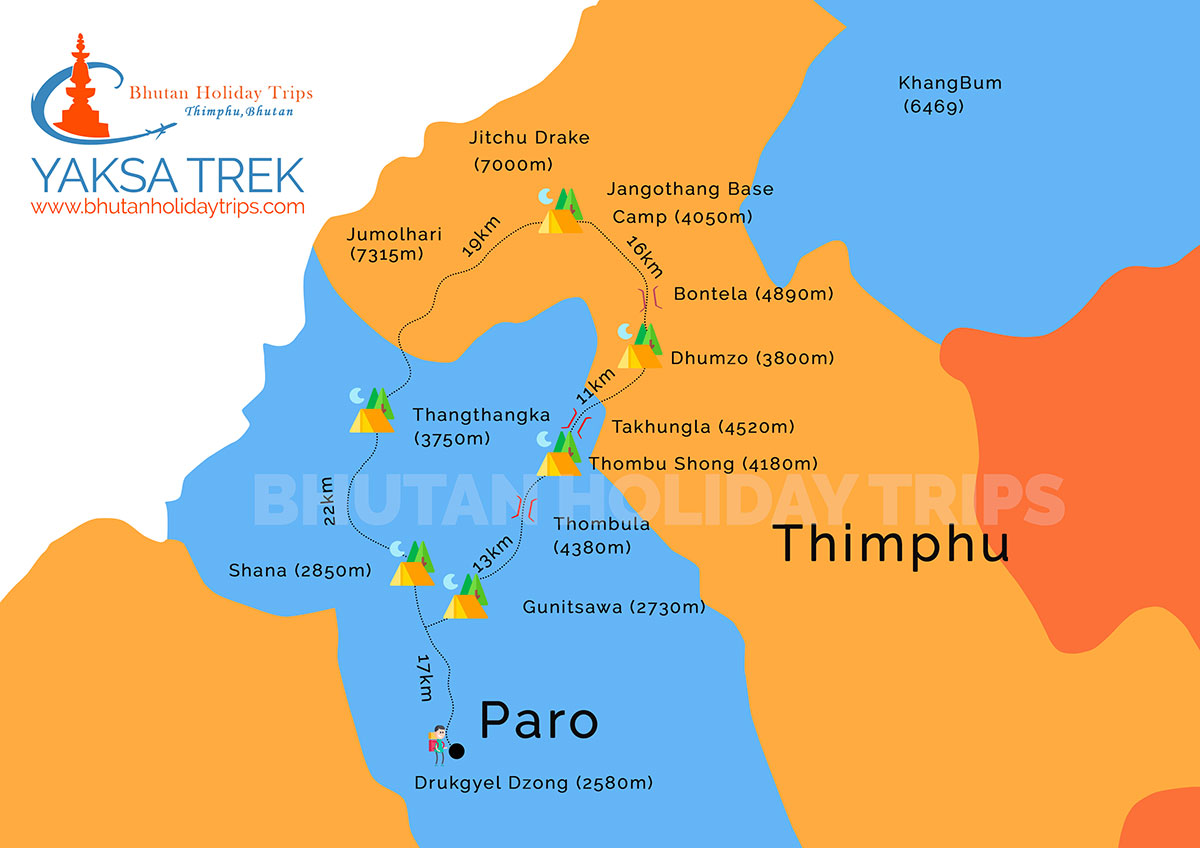 Highlights
The Trek starts from Drugyl Dzong and ends in Paro.
Trek to the Base Camp of Mount Jomomolhari.
Get opportunity to celebrates the culture of the communities living together with the natural wonders surrounding them; one of them being the snow leopard.
Cross two high mountain passes: Bonte La 4890m and Takhung La 4540m.
Explore the stunning Soi Yaksey valley
Can see beautiful lakes, nomadic yak herders, Himalayan marmots and blue sheep
Mountain views on trek, Mount Jumolhari 7314m, Jichu Drake 6989m, and Tsherimgang
Jomolhari Mountain Festival is an annual two days festival event that takes place at the picturesque base of Jomolhari. The festival celebrates the harmonious co-existence between the highlanders and snow leopards 'the ghost of high mountain' in the northern frontier of Lingzhi. It also showcases highlanders assets- the Yaks, Massifs, traditional cultural dances and more. Since the introduction of the festival in 2013, there is an increase in the number of tourist trekking to Jomolhari during the festival season.
Detailed Itinerary
Day 1 (Oct 9, Sunday): Paro
During the journey, one will experience breath-taking view of Mount Everest, Kanchenjunga and other famous Himalayan peaks including the sacred Jumolhari and Mount Jichu Drake in Bhutan. On arrival at Paro International Airport, you will be received by your guide and transfer you to the Hotel.  Later in the afternoon you will visit Paro Dzong. It was built in 17th century and now houses government offices and religious institutions. Then you will visit Kichu Lhakhang, the oldest temple in the country built by the Tibetan King Songtsen Gampo in 8th century. In the evening you can stroll in the paro town. Overnight hotel in Paro.
Day 2(Oct 10, Monday): Acclimatization Hike to Tiger's Nest Monastery
In the morning you will hike to Taktsang (Tiger's Nest) Monastery, which is Bhutan's most famous monastery situated at 3180 meters. Guru Rinpoche (spiritual master) is said to have flown on the back of a tigress from Singye Dzong in Lhuntse to meditate in a cave where Taktsang Monastery now stands. The Moanstery is perched on the edge of a steep cliff, about 900 meters above Paro Valley. Lunch will be served at the Cafeteria. Explore the monastery and hike back to the valley in the afternoon. Overnight hotel in Paro.
Day 3(Oct 11, Tuesday): Drukgyal Dzong- Shana (Trek starts)
DISTANCE 17KMS | Time: 5-6hrs.| Ascent: 500m | Decent: 0m| Altitude: 2580m-2850m
Walk along the dirt road through wide, rich, cultivated valley, beneath forest-covered mountains, following the Paro Chhu. You will encounter the first settlement comprising of big, magnificent traditional buildings with bright red chillies dried on their roofs in season. Not far from here, at Gunitsawa, you will pass army check point and your trekking permits will be checked and endorsed here. The Shana campsite is just half an hour walk from the check point.
Day 4(Oct 12, Wednesday): Shana- Soi Thangthanka
DISTANCE 22KMS | Time: 6-8hrs.| Ascent: 900m | Decent: 0m| Altitude: 2850m-3750m
This is a hard day as the altitude gain is above the limit. You will come across the first bridge en route from Tibet to Bhutan that was used by the travellers once upon a time. The trail climbs steadily through beautiful thick forest consisting mainly of, Oak, Rhododendron, Bamboo, Fern, Birch, Fir, Larch, Maple and Blue Pine. The route has lots of small rises and drops with a vision of amazing snow-capped Jhomolhari on the north. The hard day of walking comes to an end at Soi Thangthanka camp, which is in a big meadow.
Day 5(Oct 13, Thursday): Soi Thangthanka- Jangothang(Jomolhari Base camp)
DISTANCE 19KMS | Time: 5-6hrs.| Ascent: 300m | Decent: 0m| Altitude: 3750m-4050m
The view of Jhomolhari fades away as you leave the camp inflowing forest on the way towards the Army camp. Late in spring, Blue Poppy (Bhutan's national flower) has been spotted. The Military camp has Bhutanese and Indian army personnel guarding another pass to Tibet. The trail takes you through six remote villages and you might be invited into one of the houses for a cup of famous butter tea. After crossing the settlements, the summits of spiky peak Jitchu Drakey, Tshering Kang and Jhomolhari appear to get closer. Cross a bridge and suddenly the irresistible snow-and-ice- covered east face of Jhomolhari appears, with its massive 3200m- high wall of granite, marble, and quartzite. You have reached Jhomolhari camp.
Day 6(Oct 14, Friday): Jomolhari Mountain Festival
You will witness the Mountain Festival for two days. The celebration commences with a welcome dance and local song by the Soe community. The stalls will then be opened allowing you to walk around and witness the exhibition made by the local communities. This will then be followed by a yak and horse show. Yak riding, horse riding, Khuru and shotput contests will begin after lunch. A play about the conservation of Snow leopards and a snow leopard dance will also be performed. You will then hike back to the Jangothang base camp in the evening.
Day 7(Oct 15, Saturday): Jomolhari Mountain Festival
On the 2nd day, you will partake in a trek in Soe guided by the locals. After lunch, you can watch the various folk performances and experience the traditional handicrafts showcase of these local communities.
Day 8(Oct 16, Sunday): Jangothang via Tshophu Lake- Bhonte La Pass- Dhumzo
DISTANCE 16KMS | Time: 6-7hrs.| Ascent: 850m | Decent:1090m| Altitude: 4050m-3800m
The trail leads north to the last settlement in the valley and descends once again to the Paro Chhu (River), crossing it on a wooden bridge. Walk up to the torquies Tshophu lake (4380 meters), which is inhabited by ruddy shelducks. You will come across a second lake after you climb across a slope to a crest. Then descend into a hidden valley and climb steeply to Bonte La at 4890m, the highest point of the trek with great mountain views of Basingthang (5500m) and Chatarake (5570m). After the pass, the trail descends crisscrossing yak trails down to the Dhumzo Chhu and after walking downstream past few houses you arrive at a camp at 3800 meters.
Day 9(Oct 17, Monday): Dhumzo- Thombushong
DISTANCE 11KMS | Time: 4-5hrs.| Ascent: 720m | Decent: 340m| Altitude: 3800m-4180m
Climbing from the camp through Rhododendron, Birch and oak forest decorated with moss leads to a grazing land. Cross the meadow on a good trail above the river leading to a chorten, huge cliff appears with the Sey Dzong wedged in it. After descending and ascending through the forest and a flat trail roofed with Rhododendron bushes, Tagulun La(4540m) becomes visible on the skyline. The views of glorious peaks like Jhomolhari, Jitchu Drakey and Tsheri Kang, and in the distance Kanchenjunga and Makalu can be seen blocking the view to Mount Everest. From the pass, the trail winds gently downhill to a lush Thangbue valley. Thangbue camp is the second highest camp for the trek.
Day 10(Oct 18, Tuesday): Thombushong-Shana
DISTANCE 13KMS | Time: 4-5hrs.| Ascent: 200m | Decent:1380m| Altitude: 4180m-2890m
Walk through the marshy valley to find a clear trail through Rhododendron bushes towards Thombu La. From the pass you can see snowy peaks of Bhutan, Sikkim, Nepal and Tibet. The walk from the pass is one of the best of the trek with a beautiful view through a hillside roofed with Edelweiss. The camp is near the helipad, a pleasing site by the Paro chhu.
Day 11(Oct 19, Wednesday): Shana-Drukgyal Dzong (Trek Ends)
DISTANCE 17KMS | Time: 5-6hrs.| Ascent: 80m | Decent: 1650m| Altitude: 2890m-2730m
After breakfast, we retrace back through blue pine forests down stream Paro Chhu River, farm houses, rice fields, small human settlements to Drugyal Dzong. Your car will be waiting here to transfer you to hotel.
Day 12(Oct 20, Thursday):  Departure
After your breakfast, you will be driven to the airport for departure. Our representative will bid you goodbye
At a Glance
Tour duration: 12 Days | 11 Nights
Festival date: 14-15 October 2022
Difficulty level: Moderate to Hard
Total distance: 115 km
Best season: March, April, May, June, September, October and November
Maximum elevation: 4890m
Minimum elevation: 2730m
Highest camp elevation: 4180m
Highest ascent of the trek: 900m
Inclusions
All meals
Tea, coffee and snacks
Complementary bottled water in car
Hotels
Transport
Guide
Government levy
Visa fee
Permits
Sightseeing
On trek includes:
Sleeping tents
Dining tents
Toilet and shower tents
Toilet seats
Mats
Duffle bags
Cooking utensils
All meals
Guide
Trek chef assistants
Horses
Exclusions
Flight tickets
Insurance
Tips
Beverages other than tea and coffee
Sleeping bag on trek
Laundry
Internet bill
Phone bill
Other bills of personal nature
Accommodation
Accommodation in 3 star hotels (upgrade with supplement) during city tour.
Tented campsite accommodation on trek.
Insurance
Package does not include insurance of any kinds, and that you are required to obtain separate coverage from your home country before your trip begins.