Haa Nub Tshonapata Trek - 9 days | 8 Nights
From
US$

3112 / Per Person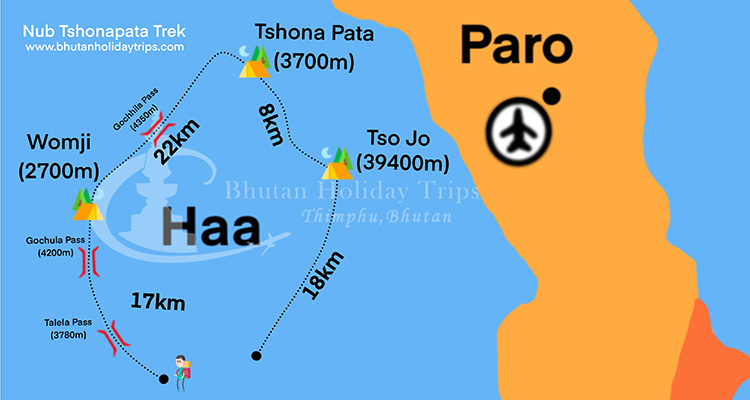 Highlights
Trek through the untouched, remote Haa Valley and savor its glorious landscape.
Cross two high mountain passes: Gochhi La at 4350m and Gochu La at 4200m.
can see blue poppy, the national flower of Bhutan, and elusive white poppy, endemic to Haa.
Can see beautiful lakes and nomadic yak herders.
Mountain views on trek,  Tshejala Range and far fung Tibetan plateau.
Camp on alpine meadows carpeted with blooming flowers and observe rare Himalayan flora.
Journey takes you through rich forest of flora and fauna offering breathtaking views of the giant Himalayan mountain peaks looping at the valley head and the turquoise colored Nub Tshona Pata Lake which will be the highlight of the trek. The entire trail offers magnificent landscape, breathtaking views of the Himalayan peaks.
Detailed Itinerary
Day 1: Arrive in Paro
During the journey, one will experience breath-taking view of Mount Everest, Kanchenjunga and other famous Himalayan peaks including the sacred Jumolhari and Mount Jichu Drake in Bhutan. On arrival at Paro International Airport, you will be received by your guide and transferred to your hotel. Later in the afternoon visit Kichu Lhakhang,the oldest temple in the country built by the Tibetan King Songtsen Gampo in 8th century, and visit the Dilgo Khyentse Rinpoche Memorial House. The Memorial House in Kyichu, Dilgo Khyentse Rinpoche's primary residence in Bhutan, was inaugurated as a museum and opened to the public in 2010 to celebrate his centennial. It has been preserved almost exactly as it was when he lived there. Khyentse Rinpoche was one of the main spiritual teachers of the Bhutanese Royal Family. The house includes the reception room where Rinpoche gave private audiences and teachings and his bedroom where he meditated daily and recited prayers, visit the Ta Dzong, the house for the Bhutan National Museum and visit the Paro Dzong, built in 17th century and now houses government offices and religious institutions. In the evening, you can stroll through Paro town. Overnight hotel in Paro.
Day 2: Acclimatization hike to Tiger's Nest Monastery. 
After early breakfast this morning, you will hike to Taktsang (Tiger's Nest) Monastery, which is Bhutan's most famous monastery situated at 3180 meters. Guru Rinpoche (spiritual master) is said to have flown on the back of a tigress from Singye Dzong in Lhuntse to meditate in a cave where Taktsang Monastery now stands. The Monastery is perched on the edge of a steep cliff, about 900 meters above Paro Valley. Explore the monastery and hike back to the valley in the afternoon. Overnight hotel in Paro.
Day 3: Paro to Haa
Today, drive to Haa valley across Chellela pass (3900m) dotted with the colorful prayer flags, where on a clear day you can get spectacular views of Mount Jomolhari and other mountains too. Before making it to Chelela, you will visit Kila Gompa Nunnery, one of the oldest nunnery in Bhutan consisting of series of buildings pressed against a cliff. After visiting Nunnery, you will begin 2hr hike to Chelela passing through chortens and fluttering prayers flags. Your car will be waiting on a pass to pick you up and transfer to Haa valley. Drive downhill from pass is through the forest of blue pine, fire and oak. In the afternoon, you will visit Lhakhang Karpo (white temple) and lhakhang Nagpo (Black temple), explore the Haa valley and farm house. Overnight stay in Farm house.
Day 4: Haa to Womji (Trek starts)
DISTANCE 17 KM | Time: 5-6hrs.| Ascent: 220m | Descent: 55m| Camp Altitude: 2700m
 Trek begins with a gentle climb up the Talela Pass at 3780m through a thick forest of rhododendron and conifer tress. The gradually ascent continues to a yak herders' camp at Tshojo. Climb up further to Gochula pass at 4200m. After this pass, walk through the trail following a ridge and then descend gradually to our camp at Womji.
Day 5: Womji to Tshona Pata
DISTANCE 22 KM | Time: 7-8hrs.| Ascent: 650m | Descent: 00m| Camp Altitude: 3700m
Today after breakfast, you will start climbing steeply through juniper and rhododendron forest to the Gochhila pass at 4350m, providing spectacular views of the whole Tshejala range. You will pass through several yak herders' camps and in spring the trail will be carpeted with wild flowers. You will then walk towards Tshejala pass crossing the ancient trade route from Haa to Tibet.
Day 6: Tshona pata (Rest)
You will have the opportunity to enjoy the area around this sacred lake, visiting the yak herders'camp and see golden trout or walking on the surrounding hillsides.
Day 7: Tshona Pata to Tshojo
DISTANCE 8 KM | Time: 4-5hrs.| Ascent: 800m | Descent: 00m| Camp Altitude: 3940m
 This morning you will retrace as far as to Gochhila Pass before branching off on a different route over a ridge to Lake Tshojo at 3780m. You will have a picnic lunch on the lake shore. After lunch, you will descend to the camp in a yak meadow at Tshojo.
Day 8: Tshojo to Haa (Trek ends)
DISTANCE 18KMS | Time: 6-7hrs.| Ascent: 650m | Descent: 650m
Your trail descends gradually through juniper and rhododendron forest until you reach the Talila Pass, which you will Cross to re-enter the Haa Valley. Your trek ends here and your transport will be waiting here to take you to Paro. Overnight hotel in Paro..
Day 11:  Departure
After your breakfast, you will be driven to the airport for departure. Our representative will bid you goodbye
At a Glance
Tour duration: 9 days | 8 Nights
Difficulty level: Moderate to Hard
Total distance: 65 km
Best season: March, April, May, June, September, October and November
Maximum elevation: 4350m
Minimum elevation: 2200m
Highest camp elevation: 3780m
Highest ascent of the trek: 800m
Inclusions
All meals
Tea, coffee and snacks
Complementary bottled water in car
Hotels
Transport
Guide
Government levy
Visa fee
Entrance fees
Permits
Sightseeing
On trek includes:
Sleeping tents
Dining tents
Toilet and shower tents
Toilet seats
Mats
Duffle bags
Cooking utensils
All meals
Guide
Trek chef assistants
Horses
Exclusions
Flight tickets
Insurance
Tips
Beverages other than tea and coffee
Sleeping bag on trek
Laundry
Internet bill
Phone bill
Other bills of personal nature
Accommodation
Accommodation in 3 star hotels (upgrade with supplement) during city tour.
Tented campsite accommodation on trek.
Insurance
Package does not include insurance of any kinds, and that you are required to obtain separate coverage from your home country before your trip begins.